The internet has changed the way we do business. Having access to the world wide web allows us to work remotely, communicate with our coworkers and colleagues, market to new customers, and send and receive payments. The internet has also opened up a major resource for business owners in the form of online loans.
Gone are the days when a business owner was forced to go to the local bank branch to receive a loan. Thanks to the magic of the 'net, we now have more access than ever to affordable business financing. AÂ plethora of lenders and loan options are available to us with just a quick online search and a click of the mouse.
If you're considering applying for a business loan, an online loan may be exactly what you're looking for. However, if you've never had experience with this type of loan, you probably have some big questions. Why should you work with an online lender instead of your local bank branch? What are the benefits of online loans…and the potential drawbacks?
Read on and we'll cover all of these questions and more in this guide to applying for business loans online.
What Are Online Business Loans?
Online business loans are loans that you can apply for — and receive — via the internet. To apply for an online loan, you simply visit the lender's website and input your information through a secure form. You may also be asked to submit documentation through secure web portals, and web applications can even link the lender to your bank account to access your bank statements directly.
Often, the entire process can be completed online, although some lenders may require a phone call to verify or request information. A direct deposit can be set up to receive loan funds, and many lenders offer the option to connect your bank account to make automatic payments.
How Are Online Business Loans Different From Bank Loans?
Online business loans are different from bank loans in a number of ways. Instead of having to drive to a local bank branch to apply for a loan, online loans allow you to apply at home, at the office, or anywhere you have an internet connection.
Online loans are also unique because the process is much shorter. In some cases, loans can be approved in just minutes and funded within days — or even within 24 hours.
There are typically not as many documentation requirements for online business loans as bank loans. Because there are so many different options, online lenders may offer loans for startups and businesses with low credit scores or revenues. Bank loans require high revenues, strong credit scores, and often have a minimum requirement for years in business.
Even though online lending offers more options and provides fast funding, the tradeoff is that these loans often come with higher APRs and terms that aren't as favorable as bank loans.
How Are Online Business Loans Different From Alternative Business Loans?
The terms online business loans and alternative business loans are often used interchangeably. What are the differences between the two?
An alternative business loan is defined as a loan that is obtained from a source other than a bank. Many alternative lenders – but not all – offer online loan options.
For example, a loan from a credit union is an alternative loan. A loan from a microlender is also an alternative loan. While some credit unions and microlenders may have an online application process, in many cases, a borrower will have to pay an in-person visit or apply over the phone. In this example, these are alternative loans and not online loans.
Types Of Business Loans Offered Online
One of the biggest benefits of applying for an online loan is how many options are available to business owners. No matter what the money will be used for, how much is needed, or even if the borrower has some challenges that disqualify them from conventional loans, online lending offers something for everyone.
Installment Loans
An installment loan is what most people think of when they hear the word "loan." With an installment loan, a borrower receives a specific lump sum amount of money, such as $10,000 or $25,000. The borrower then repays the loan, plus interest, in equal payments over a set period of time. Typically, this is once per month but payment schedules may vary by lender.
Installment loans are often used to fund larger purchases, such as a commercial vehicle or real estate. This allows a business to make its purchase without having to pay the total amount up front. Interest rates vary, with the lowest rates and best terms going to borrowers with the highest credit scores.
Small Business Administration (SBA) Loans
The Small Business Administration provides many useful resources to small business owners, and one of its most popular offerings is its affordable loans.
The SBA has set the guidelines for multiple lending programs that are offered through intermediary lenders, which could include banks, credit unions, or non-profit organizations. These guidelines keep interest rates low and terms favorable for borrowers, while the SBA's guarantee on loan proceeds protects intermediary lenders.
Available programs include 7(a) loans for a wide variety of uses (from working capital to purchase of inventory), 504 loans for commercial real estate purchases and improvements, and Microloans of up to $50,000.
| Loan Program | Description | More |
| --- | --- | --- |
| 7(a) Loans | Small business loans that can be used for many many business purchases, such as working capital, business expansion, and equipment, inventory, and real estate purchasing. | Review |
| Microloans | Small loans, with a maximum of $50,000, which can be used for working capital, inventory, equipment, or other business projects. | Review |
| CDC/504 Loans | Large loans used to acquire fixed assets such as real estate or equipment. 504 Loans are offered in partnership with Community Development Companies (CDCs) and banks. | Review |
| Disaster Loans | Loans used to rebuild or maintain business following a disaster.  | Review |
Some intermediary lenders provide online services for qualified borrowers. SBA loans are best for businesses with strong credit scores and who have time to devote to the lengthy loan process, which could take several weeks or longer.
Looking for an online loan facilitated through the SBA? SmartBiz has you covered.
Review

Visit Site

Streamlines SBA loan process for:

Debt refinancing
Working capital
Commercial real-estate

Highlights:

Suited for small and large businesses
Excellent terms and fees
No prepayment penalty
Business Lines of Credit
A business line of credit allows a business to make multiple draws up to and including a set credit limit. Interest is charged only on the portion of credit that has been used. A line of credit is very useful for businesses that need emergency funding or working capital.
Business lines of credit are available to borrowers with all types of credit scores, although lower scores may have higher interest rates, lower credit limits, and a need for collateral.
Many lenders offer business lines of credit online, and in most cases, applications are approved within days.
| Lender | Borrowing Amount | Draw Term | Draw Fee | APR | Next Steps |
| --- | --- | --- | --- | --- | --- |
| | $6K – $100K | 6 months | None | Starts at 13.99% | Apply Now |
| | $2K – $5M | Varies | Varies | Varies | Apply Now |
| | $5K – $5M | 6 months | 1.50% per draw | 21% – 65% | Apply Now |
| | $1K – $100K | 12 weeks | None | 12% – 54% | Apply Now |
Short-Term Loans
A short-term loan is another popular online loan option. Short-term loans are similar to installment loans, but they are typically for much smaller amounts and will need to be paid back in a shorter period of time, which is typically one year or less.
Short-term loans often have much higher interest rates than other types of loans. Businesses with lower credit scores or revenues or a short time in business may turn to short-term loans when they are unable to qualify for other types of funding.
Merchant Cash Advances
A merchant cash advance is a type of loan that provides a lump sum amount to a borrower in exchange for a portion of the business' future credit card sales. This can be done in two ways. The first way is by taking an agreed-upon percentage on a regularly scheduled basis. This is an option chosen by many businesses that may experience slow periods. When sales are down, the payment is lower. When business picks back up, the payment is higher.
The other way that businesses can pay back merchant cash advances is with a regularly scheduled payment that never changes. This could prove to be a burden for businesses that experience a slowdown in sales, as the payment remains unchanged.
With these loans, payments are made on a more frequent basis through ACH withdrawals. This payment schedule could be weekly or even daily. Merchant cash advances have very high rates and are one of the most expensive forms of credit. However, this may be an option to consider for businesses with very low credit scores or revenue, a lack of collateral, or that face other challenges when applying for other types of business loans.
| Lender | Borrowing Amount | Min Credit Score | Time To Funding | Next Steps |
| --- | --- | --- | --- | --- |
| | $2K – $5M | 550 | 1-2 Days | Apply Now |
| | $5K – $500K | 550 | 1-3 Days | Apply Now |
| | $5K – $500K | 500 | 2-5 Days | Apply Now |
| | $5K – $250K | 500 | 2-5 Days | Apply Now |
Equipment Loans
Businesses that need to purchase new equipment may consider applying for an equipment loan. With this type of financing, businesses can purchase the equipment they need through affordable monthly payments instead of paying cash up front.
Equipment loans usually have fewer requirements than installment loans, including lower credit scores. No collateral is typically needed because the financed equipment acts as the collateral.
| Lender | Borrowing Amount | Term | Interest/Factor Rate | Additional Fees | Next Steps |
| --- | --- | --- | --- | --- | --- |
| | $2K – $5M | Varies | As low as 2% | Varies | Visit Site |
| | $5K – $500K | 24 – 72 months | Starts at 5% | Yes | Compare |
| | Up to $250K | 1 – 72 months | Starts at 5.49% | Varies | Compare |
Invoice Financing
Businesses that have cash flow shortages due to unpaid invoices can receive invoice financing. With this type of funding, businesses receive money immediately for unpaid invoices without having to wait for customers to pay. The accounts receivables act as the collateral with invoice financing.
Invoice factoring is one type of invoice financing. A lender pays a percentage of the invoice as a lump sum to the borrower. The lender collects payment on the invoice, and once it is paid, the remaining amount is paid to the borrower, minus fees and interest charged by the lender.
With invoice discounting, as much as 95% of the invoice total is paid to the borrower. The borrower collects the invoice total from the customer. Once collected, payment is submitted to the lender to repay the loan and pay interest and fees.
Online Business Loan Pros & Cons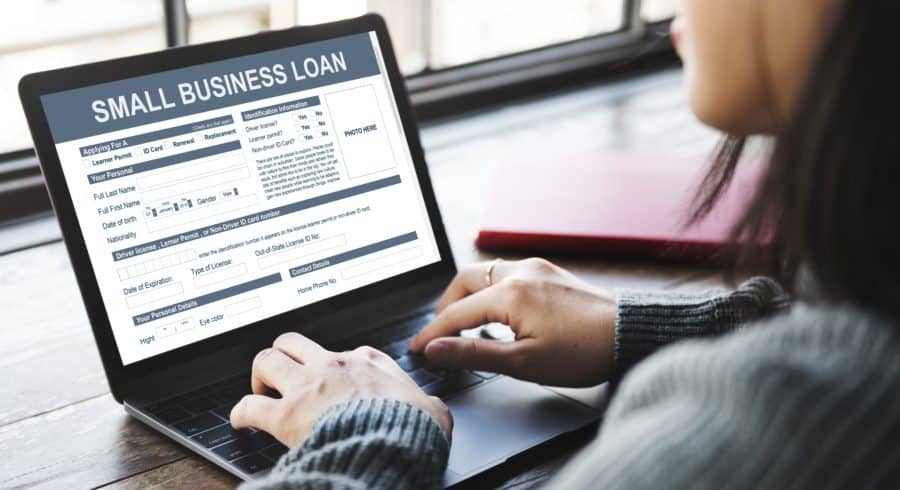 Online business loans may sound great to you so far, and they do have many benefits over other types of loans. However, they also come with their own set of drawbacks. Before diving into an online application, it's important to understand these pros and cons to determine if an online loan is the financing route you want to take.
Pros
One of the biggest benefits of online loans is that the application process is fast. For some loans, approvals are instant and money can be in your bank account in just a few days. For businesses that need money immediately for an emergency, this is a much better option than waiting weeks for a conventional loan. Borrowers can go through the process on their own timetable without having to make a visit to a bank branch or other institution.
The online lending process is easy. With traditional loans, lots of paperwork has to be compiled and submitted with the application before the business even gets an approval. With online loans, documentation requirements are not as strict and all paperwork can be submitted quickly online.
There are also many different loan options available through online lenders. No matter the reason for needing the money, there's an online lender that offers a business loan to fit that need, from equipment financing to installment loans and lines of credit.
Online loans provide options for almost any business owner, even ones that have trouble qualifying for conventional loans. Whether it's a credit issue or cash flow challenges, business owners can overcome their financing hurdles with online loans.
Cons
While online loans offer many benefits over traditional options, they don't come without their drawbacks. One of the main drawbacks is that these loans are often more expensive than other options like bank loans because of high APRs. However, borrowers with strong credit scores can find online loans with competitive interest rates.
Repayment terms may not be as long with online loans, resulting in higher monthly payments. There are some loans, however, that offer excellent repayment terms, such as SBA loans.
Online loans can also come with additional fees that banks and other traditional lenders may not charge. Some loans may have prepayment penalties, so it's important to fully read through the loan contract and only work with online lenders that are transparent about their fees and terms.
How To Apply For Online Business Loans
While the application process varies by lender, there are a few main steps that a borrower must take when applying for an online business loan. The first step is to visit the lender's website and begin the secure application process.
The applicant will be required to provide personal information including but not limited to:
Legal name and business name
Personal and business contact information
Business tax ID
Social Security number
Income/revenue information
Typically, the lender will require the applicant to submit documentation. Initial documents may include bank statements and financial statements. For larger loans, additional information and documentation may be required.
After submission, the application will go through the lender's approval process. For certain types of loans, approval could be instant. With other loans, such as SBA loans, more time may be required. The lender may also require additional documentation or a phone call to verify information.
In order to obtain a loan, specific collateral (business or personal assets that are used to secure the loan) may be required. Other times, specific collateral is not required. However, a personal guarantee or blanket lien will typically be included within the contract. A personal guarantee will hold the borrower personally liable for the debt, meaning that the lender can take legal action or seize personal assets if the loan goes into default. A blanket lien gives the lender the legal claim to seize business assets in the event that the loan is not paid.
Once the loan has been approved, the next step will be based on the lender's funding policies. Some online lenders provide funds within days or as soon as 24 hours. All applicants should fully read and understand a loan contract before signing. Once signed, online loans are deposited directly into the borrower's bank account. At this time, the borrower may also be able to log into their account through the lender's website to have access to the signed loan documents and features such as autopay.
How To Find Online Business Loans
Since online loans are found through the internet, a quick query on a search engine will yield thousands of results. However, wading through all of the different lenders can be overwhelming. Instead of sorting through the many lenders offering online loans, start your search with the most reputable lenders.
Begin by comparing lenders side-by-side to see which best fits your needs. Once you've found a lender (or a few) that have captured your interest, check out our in-depth reviews to learn more about rates, requirements, and navigating the application process.
A business loan should only be used to boost your business. You want to ensure your return on investment outweighs the full cost of the loan, including all fees and interest. It's easy to fall for the idea of fast money, but you should take the time to do your research to find the most affordable loan option that meets your business needs.
Final Thoughts
Online business loans make it easier than ever to get the money you need for your business. While these loans are great for getting fast funding, it's important that you take the time to understand the loan process and fully review any offers you've received. While it's okay to take on extra debt to advance your business, taking on debt that you don't need or can't afford can hurt your business in the long run.
The post Applying For Business Loans Online: Everything You Need To Know appeared first on Merchant Maverick.
""