When opening an online store, one of your most important tasks is finding the right website builder. In truth, selecting the proper software fit for your needs can make or break your whole operation. It goes without saying (but we'll say it anyway, because it's our job) that a small online shop offering its own home-based inventory has different software requirements than a large network of websites offering thousands of products sourced from all over the world.
To assist in your search, we've rounded up the top ecommerce software contenders. Two of our recommendations (Wix and Squarespace) began as traditional website builders for business or personal use, but have since added ecommerce capability. The others are ecommerce shopping carts at their core but have also made advanced online storefront-building capacity a major feature of the service. These include Shopify, BigCommerce, and 3dcart.
| | Shopify | BigCommerce | 3dcart | Wix | Squarespace |
| --- | --- | --- | --- | --- | --- |
| | | | | | |
| | | | | | |
| | Review Visit Site | Review Visit Site | Review Visit Site | Review Visit Site | Review Visit Site |
| Monthly Cost | $9 – $299 | $29.95 – $249.95 | $19 – $229 | $25 – $40 | $26 – $46 |
| eCom Features | Excellent | Excellent | Excellent | Good | Good |
| Ease Of Use | Very Easy | Easy | Moderate | Very Easy | Easy |
| Web Design | Great | Good | Good | Excellent | Excellent |
| Customer Support | Great | Great | Good | Good | Good |
In recommending these particular sitebuilders, we should note that our focus is on the DIY end of the website-building spectrum. If, on the other hand, you are confident in your coding skills (or can hire a dedicated developer) and prefer the infinite flexibility of an open-source platform for frontend design and content creation, you might try a CMS like WordPress to use in conjunction with a shopping cart plugin, such as WooCommerce or Ecwid.
However, if you're looking for an all-in-one, fully-hosted, and simpler-all-around system for online store-building, you've come to the right place. The great news for you is that the online storefront creation and editing capabilities of the all-inclusive platforms we'll highlight in this roundup have only improved over time.
How To Choose An eCommerce Website Builder
If you haven't shopped for an ecommerce platform before, the first step is to become oriented with this type of software so you know what you'll be examining in the first place. Fortunately, each sitebuilder we'll cover here offers some sort of free trial, so you'll have the opportunity for hands-on experience with the software before making a final selection.
Here are the main things you should consider when choosing ecommerce software:
Cost
Monthly Subscription: Most DIY sitebuilders these days are SaaS (Software as a Service), so check for the monthly cost of each plan level, which features are included at each price point, and any plan limits such as number of products you can list, revenue caps, etc.
Per Sale Commission: Some ecommerce sitebuilders charge a percentage commission per sale under certain circumstances, so investigate if and when this extra fee might apply to your store.
Add-On Features:Â Many features may only come as add-ons from an app marketplace. While some add-ons are free, other apps you may want to integrate with your store (like shipping, marketing, or accounting software) are fully-fledged SaaS platforms with their own monthly subscriptions.
Payment Processing:Â You'll need to connect an online payment gateway to your store — usually a third-party processor like Stripe or PayPal — to accept payments from customers, so check out the available options that work with the platform in your country, and the processing rates charged.
Design Template:Â Some website templates come free with the software, but premium themes typically have a one-time purchase cost.
Web Development:Â While most ecommerce sitebuilders are DIY when it comes to getting things up and running, you may still decide to hire a developer or designer to fine-tune your site at some point.
Website Design
Template/Theme Options: Browse the theme marketplace and get a feel for several templates you could see yourself using.
Customization Options: Go beyond admiring templates and work with a few yourself. In particular, explore the storefront editing tools that come with the software. Look to see if and how you can move elements within page layouts — there are varying degrees of flexibility in this area.
Features
Admin Features: Look at the options for configuring storewide settings such as shipping methods, currencies, languages, tax calculation, and sales channels. Also, consider the ways in which you'll be able to manipulate the specifications for individual products (pricing, SEO data, discounts, product variants/attributes, etc).
Storefront Features:Â This includes how products are displayed, organized, and marketed to customers on your site, as well as all aspects of the checkout experience.
Quantity VS Quality: Just because a certain feature exists, doesn't mean it's very robust or will work well for your needs. Similarly, you don't want to get bogged down with (nor pay for) a bunch of features you don't need.
Fit: Do the available features cater well to your business type, size, location, etc?
Scalability: Online stores grow in different ways, so it helps to anticipate how your operation will most likely expand over time. Growth dimensions, like number of products and their variations, number of staff accounts, file storage, revenue, marketing needs, and traffic levels, are often handled differently by different platforms.
Ease Of Use
Onboarding & Store Setup:Â All the software apps we cover in this article falls under a larger umbrella of "easy to get started," but pay attention in your free trials to exactly how self-explanatory each step is, and to any additional guiding resources that are available.
Dashboard Navigation & Feature Manipulation:Â Check your level of comfort with both finding and manipulating features like inventory and order management, discount creation, etc.
Simplicity VS Flexibility:Â User-friendliness is a good thing, but make sure that the tools you need aren't so basic that they can't accomplish precisely what you want them to.
Coding Skill Requirements: Â In most cases, the basics of admin and storefront customization will be covered without coding, but advanced customization can require advanced knowledge. Do your best to push the limits of non-coding customizability during your trial.
Tech Support:Â Know what resources you'll have if you get stuck or if something goes wrong with your site. Since online stores operate 24/7, you'll probably want at least one support channel (email/web tickets, live chat, or phone) that's open 24 hours.
Between your own testing experiences, perusing the software's website, reading reviews (like ours!), and interacting with customer service to answer any lingering questions, you should have a very good handle on how a particular sitebuilder will work for your online store before coughing up a single cent in subscription fees.
Now, let's take a look at some software! We can't cover absolutely everything we've discussed above (check out our full reviews of the software for more info), but we'll hit some key points to help guide your choice.
1. Shopify
Pricing & Payment Processing
While there is a $9/month Lite plan with Shopify, you'll need to sign up for the Basic plan ($29/month) or higher to build a full ecommerce website using the software. As you continue upward in plan level, you'll see a few added features and the option to increase your number of staff admin accounts. Here are the subscription options:
Shopify Lite: $9/mo. Embeddable cart, but no standalone store website.
Basic Shopify: $29/mo.
Shopify: $79/mo.
Advanced Shopify: 299/mo.
Shopify Plus: Custom pricing. Reserved for enterprise-level customers.
You have over 100 gateway possibilities for accepting payments from your customers with Shopify, but note that if you don't use the in-house option — Shopify Payments, powered by Stripe — you will be charged an extra Shopify commission per sale of up to 2% on top of the card processing fee from your payment gateway. On the flip side, if you do use Shopify Payments, you'll receive a processing discount (i.e., pay less than the going rate for Stripe on its own) on the Shopify and Advanced Shopify plans.
We've put together a complete breakdown of Shopify Payments, and I'd definitely recommend reading that before you sign up for Shopify. For now, just remember that you'll face an extra transaction fee from Shopify if you don't use Shopify Payments.
Shopify also has one of the most extensive app stores you'll find among SaaS ecommerce platforms. This can be a great resource for your store, but be careful to take the added cost of the apps you might need under consideration as you evaluate pricing.
Ease Of Use
Shopify users appreciate how easy it is to jump right in and start selling with the software. Once you open your free 14-day trial, your dashboard guides you toward a few steps to begin setting up your store:
Our tests of both admin navigation and individual feature manipulation have demonstrated that everything is easy to find and use. If you do run into problems, Shopify offers phone, email, and live chat support 24/7 at all subscription levels — a rare support trifecta amongst ecommerce website builders. The company has also curated an impressive library of self-help articles, videos, and even full online courses. All in all, Shopify earns an A+ for user-friendliness.
Web Design & Editing
Theme Options:
Choose from 10 free themes (made by Shopify) or 60 paid themes for $140-$180, most with multiple style variations. Even the free themes are good quality, and I'm always struck by the pleasant experience of shopping in the theme store. When a shopping cart platform is good at showcasing its own products, this gives me confidence in its ability to serve the needs of ecommerce sellers who are trying to accomplish this exact same task with their own products.
Editing Tools:Â 
To move elements around on your site's pages, you'll have access to a drag-and-drop tool called "Sections." It's not as flexible as the visual editors from traditional sitebuilders like Wix and Squarespace, which allow more freedom of placement, but you can at least add, subtract, and change the order of elements. You can also change fonts and colors under "Theme Settings."
If you wish to further customize your theme, you'll need to learn Shopify's own templating language called Liquid. This open-source language is written in Ruby and is the backbone of Shopify templates. Of course, you may not need to further code your Shopify theme at all — we just always like to include the heads up in case.
Features
While Shopify has a strong, highly-capable core feature set, advanced features often come as add-ons (even free ones) to keep the base platform streamlined and easy to use. Here are some of the Shopify features we like:
Admin
Unlimited products, bandwidth, and storage on all plans
Built-in shipping software (Shopify Shipping)
Manual order creation (virtual terminal)
Shopify POS & other POS integrations
Extensive order fulfillment & dropshipping integrations
Extensive sales channel & marketplace integrations (eBay, Etsy, Amazon, Google Shopping, etc.)
Mobile store management via Shopify App
Storefront & Checkout
Checkout on your domain
Real-time shipping calculations
Automatic tax calculation
Coupons, discounts & gift cards
Abandoned cart recovery
Expedited checkout with Shopify Pay
Along with the features we've highlighted above, check individual templates for special storefront features such as parallax scrolling, customer testimonials, social media feeds, and more.
Best Fit
From an overall software quality standpoint, it's hard to go wrong with Shopify. This platform remains our default recommendation for the typical online seller who wants to quickly launch an attractive and functional store, but who also hopes for a scalable solution that easily accommodates growth in product listings and store revenue. As far as shopping cart software goes, it's also one of the easiest platforms to use.
Shopify not-so-subtly guides you toward using Shopify Payments as your processor by rewarding you with reduced processing fees if you do and punishing you with an extra commission per sale if you don't. If you're not in one of the 10 locales currently supported by Shopify Payments or don't qualify to use the processor for another reason (such as risk level or type of products sold), you should probably take a closer look at some of the competing ecommerce platforms as well.
2. BigCommerce
Pricing & Payment Processing
Each bump in subscription level with BigCommerce gives you added features, but also implements annual revenue caps. Meanwhile, BigCommerce never charges an additional commission per sale, regardless of which payment processor you choose. You'll have around 60 payment gateway options, one of which is Braintree (a division of PayPal), which gives access to discounted processing rates as you move up the BigCommerce subscription ladder.
Here are the plans, all of which allow you to create a full ecommerce storefront:
Standard: $29.95/month (sell up to $50K/yr.)
Plus: $79.95/month (sell up to $150K/yr.)
Pro: $249.95/month (sell up to $400K/yr.)

add $150/mo. for every additional $200K/yr. in sales, up to $3M

Enterprise:Â Custom pricing
BigCommerce also offers an app store with hundreds of connections to ecommerce-related software and feature plugins. While this platform attempts to include a few more native features than Shopify, you should still be aware of the cost of additional integrations purchased through the app marketplace.
Ease Of Use
BigCommerce offers a 15-day free trial (probably just to one-up Shopify by a day). The admin dashboard you'll encounter upon signup is arranged in a standard ecommerce fashion — navigational menu on the left, tips to get started on the right:
I would qualify BigCommerce's backend as quite intuitive to use, although you might find it slightly more complex and detailed than Shopify's interface. Part of this comes down to personal preference and experience, though. If you happen to run into a snag, BigCommerce offers 24/7 phone, email, and live chat support at all plan levels, as well as good documentation and community forums.
Web Design & Editing
Theme Options:
With over 120 themes (and multiple style variations per theme) available at the BigCommerce theme marketplace, you're bound to find a good match for your store. Seven of the themes are free, and the rest range from $145 to $235 each.
Editing Tools:
Theme editing with BigCommerce is more restricted than with Shopify. The visual editor (now called Store Design) lacks a drag-and-drop component, for example. In other words, you should carefully choose a template you really like, because you are stuck with its basic format. Alternatively, you can add a page builder app from the marketplace with drag-and-drop capability, but just be careful to factor in the added cost. You can also make customizations with HTML and CSS if you're skilled in these areas.
Features
As always, check which features are included with each subscription level (and which come as apps), but take a look at a few of BigCommerce's standout features:
Admin
Unlimited products, storage, & bandwidth
Unlimited staff accounts
Sell digital and service-based products without adding an app
Support for numerous product variations
Manual order creation & editing (virtual terminal)
Square POS integration
Marketplace integrations (Amazon, eBay, etc)
Shipping label printing (USPS) and discounts
Complimentary Avalara AvaTax account
Customer segmentation with loyalty program capability
Multiple SSL certificate options (shared, dedicated, custom)
Storefront & Checkout
Single-page checkout
Real-time shipping quotes
Product ratings & reviews
Coupons, discounts, & gift certificates
Faceted/filtered product search
Abandoned cart recovery
Public & private wish lists
Recently viewed products
Akamai Image Manager & Accelerated Mobile Pages (AMP)Â  for mobile-friendliness
Integrate consumer financing options at checkout
Best Fit
BigCommerce strikes a good balance between ease-of-use and powerful out-of-the-box functionality, which we think a lot of online sellers will appreciate. Individual feature quality is also quite robust. Like Shopify, BigCommerce works for a wide variety or catalog sizes and scales well. However, if you have a nuanced catalog with a lot of product variations or custom fields, and like being really hands-on with your product SEO, you might be drawn to BigCommerce.
BigCommerce is also a great option to consider if you want or need the freedom to choose a payment processor without the "threat" of extra transaction fees if you don't select an in-house option. If you've already looked at Shopify but need more flexibility when it comes to payments, definitely check out BigCommerce as an alternative.
3. 3dcart
Pricing & Payment Processing
3dcart shares pricing structure components with both BigCommerce and Shopify. Like BigCommerce, 3dcart subscription packages have revenue caps. Another similarity is that 3dcart never charges its own fee per sale (and over 160 compatible payment gateways are available, some with discounted processing rates at higher subscription levels).
Like Shopify, you get more staff accounts at each 3dcart level. And, like both Shopify and BigCommerce, each step in plan offers a few additional features.
Do also note that the Startup plan with 3dcart has an item limit of 100 products. Here's a quick pricing summary:
Startup: $19/month (sell up to $50K/yr and list 100 products.)
Basic: $29/month (sell up to $100K/yr.)
Plus: $79/month (sell up to $200K/yr.)
Pro: $229/month (sell up to $400K/yr.)
Enterprise:Â Custom
For building a complete online storefront with the software, 3dcart comes in at a lower starting price than both BigCommerce and Shopify (at just $19/month). You'll also note that the 3dcart $29 plan accommodates twice the annual store revenue of the $29.95 plan on BigCommerce. For these reasons, 3dcart is often considered a less expensive choice.
3dcart boasts a lot of built-in features, but watch out for the ongoing monthly cost of software integrations for shipping, accounting, and other services available in the 3dcart app store.
Ease Of Use
3dcart also comes with a free 15-day trial (and if you think everyone's just copying each other on this, 3dcart has been around the longest!). The dashboard functions just like those of the other two ecommerce platforms we've discussed so far, but some advanced features are built-in modules you must find and turn on to use.
While 3dcart is easy to use, it is definitely more complex and layered than Shopify or BigCommerce. You may find, however, that you appreciate the flexibility and advanced capability of 3dcart's features. Tech support is available 24/7 via phone, live chat, and email, but note that you must be on the $29/month plan to access phone support. The community forums are also helpful, and the knowledgebase provides step-by-step articles on most of the important features.
Web Design & Editing
Theme Options:
3dcart offers just shy of 50 themes in its marketplace, and close to half are free. The rest are $150-$200.
Editing Tools:Â 
If you want to customize your theme, you can make color, content, and some typography changes in the visual editor, but more significant changes require tweaking HTML and CSS. In other words, there is no drag-and-drop capability. My overall hunch is that 3dcart expects most users to eventually tinker with the code if they really want to hone their designs.
Features
Below is just a sampling of 3dcart's features — be sure to check the website for the full breakdown by plan:
Admin
Unlimited product options/variants
Inventory & order management
Dynamic, unlimited product categories
Return management
Manual order creation & editing (virtual terminal)
Advanced SEO tools
Create/print shipping labels from multiple carriers
Multichannel selling
Email marketing & drip campaigns
Unlimited email hosting
Built-in CRM
Built-in iPad POS software (or integrate with Square POS)
Built-in B2B selling features
Storefront & Checkout
Single-page checkout
Real-time shipping calculations
Gift certificates (on all plans)
Wide variety of discount/coupon types
Daily & group pricing deals
Make-an-offer pricing
Offer financing options
Wish lists & gift registries
Reviews & product Q&A
Waiting list & pre-orders
Gift wrap
Loyalty program & rewards points
Abandoned cart recovery
Best Fit
In some ways, we've been climbing up the ladder of built-in complexity as we've progressed through this software roundup so far. The tradeoff between simplicity and flexibility starts to lean more noticeably toward the flexibility side when we arrive at 3dcart. I think it's safe to say that 3dcart works well for users who are perhaps not coding experts, but still fancy themselves on the generally tech-savvy end of the spectrum. While still easy to use in the grand scheme of things, this platform requires a bit of initiative on the part of the user to take full advantage of what it has to offer.
Starting at just $19/month, 3dcart is also a cost-effective option for sellers on a tight budget who still require workhorse-style ecommerce software underpinning their websites (versus a traditional website builder with added ecommerce capability). Speaking of budgets, 3dcart is also a great option for sellers who may feel Shopify's software is a good fit, but are stuck with an extra transaction fee because they can't use Shopify Payments. With well over 100 options at 3dcart, you're bound to find a compatible processor that suits your needs.
4. Wix
Pricing & Payment Processing
To create an ecommerce website with Wix, you'll need to sign up for one of the "Business" plans designed for online sellers. As is common with traditional website building software, Wix advertises a monthly price for plans when paid annually, rather than a true month-to-month price. We like to focus on with the month-to-month price, so you can better compare between platforms:
Business Basic: $25/month (20GB storage)
Business Unlimited: $30/month (35GB storage)
Business VIP: $40/month (50GB storage)
If you decide to pay annually, the above prices drop to $20, $30, and $35, respectively. (To be fair, all the platforms in the article offer some type of discount for paying annually — it's all a matter of advertising strategy). The package levels are defined by file storage, customer support, and whether or not email marketing campaigns are included. 
Wix never charges an extra commission per sale, regardless of which of the close to 20 gateway options you select for accepting payments.
As we've mentioned with the other software platforms we've discussed so far, you may want to add some apps to expand what your site can do. Wix apps often have both free and premium versions, so just confirm which type will work for your store so you can accurately calculate your true monthly costs.
Ease Of Use
You can dive right in and start testing Wix for free as long as you'd like — you just can't start accepting payments through your store until you sign up for a paid plan. At that point, you have 14 days to cancel and receive a full refund on your subscription fee if you change your mind.
There are two ways to get a site started with Wix. You either let Wix ADI (Artificial Design Intelligence) create a website for you by asking you a series of detailed questions about your business, or you select a pre-made template and go from there. Either way, the ecommerce portion of your site is built on the Wix Stores app, which seamlessly integrates into the rest of your dashboard:
The backend ecommerce features of Wix are very easy to use, if sometimes not quite as powerful or flexible overall as the features of the other shopping cart software we've discussed so far. Wix actually takes user-friendliness to a whole new level by incorporating several visually-engaging interfaces that carefully hold your hand through important processes such as setting up email campaigns, creating discounts, configuring SEO for your site, and more. On a personal note, I really enjoy using Wix for this reason.
If you still need extra help, phone support is available Monday-Friday from 5AM-5PM PT on all plans, or you can submit an email ticket 24/7. Online self-help resources are good quality, but not as extensive in the ecommerce department as those you'd find for a platform like Shopify.
Web Design & Editing
Theme Options:
Approximately 80 templates offered by Wix are built upon the Wix Stores app, but it's easy to add the app to any of the 500 or so templates offered. Happily, all templates are included free with a Business subscription to Wix. And, as you might expect from a platform that specializes in frontend design, your options are very elegant and modern.
Editing Tools:
While you can't switch templates midstream with Wix, you have loads of flexibility in customizing what you've chosen. The drag-and-drop capability of Sections in Shopify pales in comparison to the "place anything anywhere" possibilities with Wix. Use the gridlines as a guide to ensure your site is mobile-friendly, and away you go:
If, on the other hand, you decide to have your base website constructed for you using Wix ADI, you'll have access to a theme editor that's more in line with Shopify's drag-and-drop system:
I think one common path to design customization with Wix is to have Wix ADI create a base site to begin with, and then shift over to the more flexible Wix Editor for fine-tuning. You just can't go back to Wix ADI and its simpler editor once you've made the switch.
Features
Once again, we're just including a sampling of key features here. Most of those listed below are available on all three Wix Business plans:
Admin
Unlimited products & bandwidth
Sell physical, digital and service-based goods
Up to 6 options and 300 variants per product
Inventory & order management
Send & manage invoices
SEO tools
Track traffic with Google Analytics
Personalized email address that matches your domain/brand
20 email marketing campaigns (100,000 total emails/mo) included in subscription
Customizable, automated email & chat responses
Mobile app for store management
Integrate with Square POS
Free stock photo library
Storefront & Checkout
Checkout on your own domain
Offer discounts & coupons
Customizable product sorting & filtering
Customer login/member area
Multilingual storefronts
Multifunctional sites (including bookings, event management, restaurants, etc)
Live chat with customers
Advanced frontend design features
Best Fit
We love Wix as a solution for stores with aesthetically-nuanced products. as well as for brands that highly prioritize visual quality and uniqueness overall. Those who feel boxed in by the somewhat limited design customization options of ecommerce platforms like Shopify will appreciate the freedom to fine-tune everything about the look and feel of their online storefronts, as well as their communication and marketing materials — all without touching a line of code. And, for those who want a visually-unique site with minimum effort, Wix ADI can hold your hand every step of the way.
If you are thinking of scaling to offer a very large number of products, or wish to significantly expand your shipping and fulfillment needs over time, Wix probably isn't your best choice. Meanwhile, we think a lot of multifunctional businesses (like hotels, restaurants, photographers, artists, musicians, bloggers, etc.) who also want to sell a few products online will love the seamless integration of a native ecommerce app into their dashboards.
5. Squarespace
Pricing & Payment Processing
Similar to Wix, Squarespace leads with pricing figures that assume you'll pay for a complete year at a time. Adjusted for true-month-to-month costs, here are the Squarespace plans with fully-integrated ecommerce functionality:
Business: $26/month
Commerce Basic: $30/month
Commerce Advanced: $46/month
There's a pretty big jump in the number of features between the Business and Commerce Basic plan, and a smaller jump in available features to Commerce Advanced. Another difference between the Business Plan and the two Commerce plans is that the Business plan comes with a 3% Squarespace commission per sale. If you're serious about creating an ecommerce website with Squarespace, it will likely be worth it to have a Commerce package for the additional ecommerce-specific features and the elimination of the extra transaction fee. Meanwhile, you only get two payment gateway options with Squarespace (Stripe and PayPal), which will also charge their own transaction fees.
Squarespace doesn't have an app store — any third-party integrations come already connected to your store. However, when activating one of these connections, you should be aware that some of them do have premium versions with ongoing monthly costs. ShipStation and MailChimp are two good examples.
Ease Of Use
Squarespace offers a 14-day free trial. If your trial expires before you upgrade and you haven't made up your mind yet, you can simply create another trial site under the same registration email.
Before you reach the dashboard, you'll need to select a template (but you can change it later). You'll see a few ecommerce-geared options first if you enter "to sell" something as your site's purpose. Unlike any of the ecommerce sitebuilders we've discussed so far, your admin dashboard incorporates a frontend preview on the right:
I find it a little difficult to start adding products with Squarespace — you have to create a separate product page first, and the software doesn't do a great job explaining this. Once you conquer this initial hurdle, however, the overall learning curve for ecommerce functions is relatively small.
I also like all the direct links to applicable support articles within the dashboard that guide you directly to the right knowledgebase article if you become stuck. Squarespace email support responds 24/7 and is quite effective, but the tradeoff is that there's no phone support offered. Meanwhile, live chat is available Monday-Friday 4AM-8PM Eastern time.
Web Design & Editing
Theme Options:
Squarespace offers approximately 90 themes grouped into 21 families. Since you'll eventually be adding some sort of product page no matter what, any of them can be used for ecommerce, even though some are specifically suggested for online stores.
As far as traditional website builders go, the sheer variety of templates is low, but the quality is high. We're looking at a carefully-curated selection of polished, classy, streamlined designs offered by Squarespace: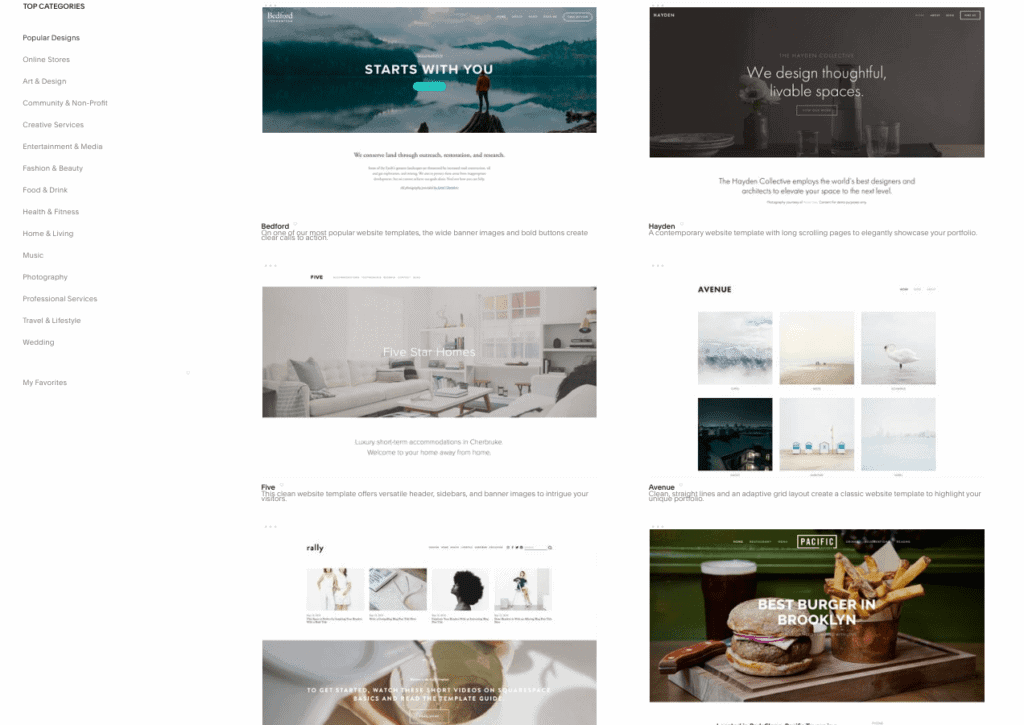 Editing Tools:
Squarespace lands somewhere in between Wix and Shopify when it comes to the amount of freedom you have to drag-and-drop page elements. You can add and arrange large sections up and down each page, insert various types of "content blocks" (including spacers and lines), and adjust the alignment of pieces within those blocks to a certain extent. Fonts and colors are also adjustable, but often exist as site-wide style settings in order to maintain a unified look.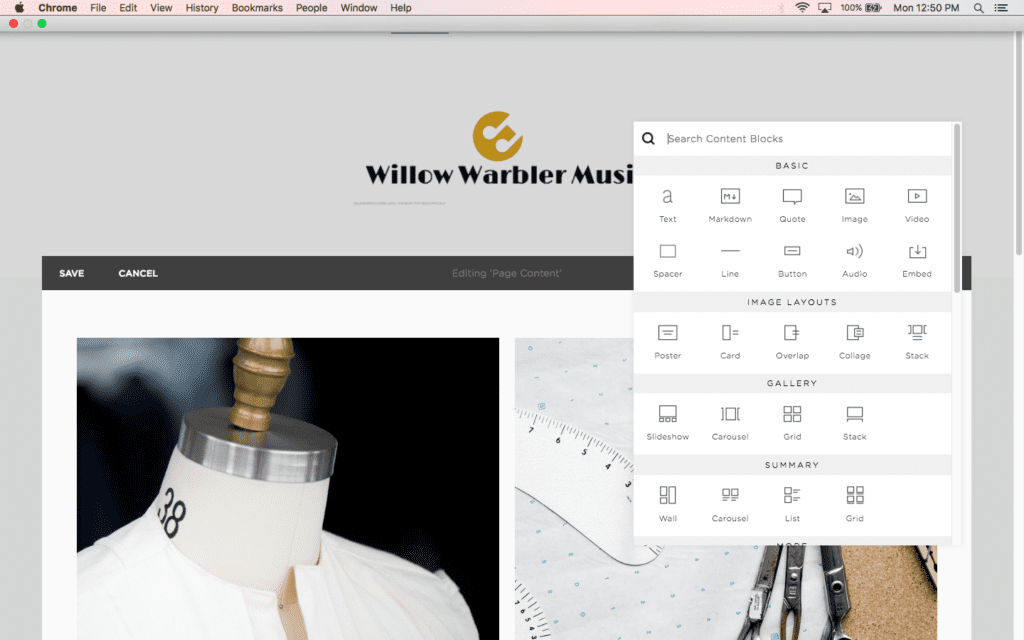 In summary: Squarespace offers more no-code design flexibility than Shopify and less than Wix. However, if you're comfortable adding CSS to your site, there's an easy CSS editor available.
Features
Below are some Squarespace features that caught my eye. A handful of these features (i.e., abandoned cart recovery, gift cards, and subscription payments) are only available on the Commerce Advanced plan. Always check the full and most complete breakdown by plan on the company website!
Admin
Unlimited products, bandwidth, and storage
Sell physical, digital, and service-based products out-of-the-box
Unlimited staff contributors on all ecommerce plans
G Suite integration (full year free)
Shipping & accounting integrations
Inventory & order management
Set store manager permissions
Mobile app for store management
Logo creation software
Commerce analytics & reports
Advanced image/photo management & editing
Storefront & Checkout
Checkout on your domain
Customizable checkout forms
Promotional banners & pop-ups
Offer gift cards
Offer subscriptions to products & services
Accept donations
Offer coupon codes and discounts
Real-time shipping rates from multiple carriers
Abandoned cart recovery
Guest checkout & customer accounts
Express checkout for single-product stores
Best Fit
The target audience for Squarespace amongst ecommerce website owners overlaps significantly with Wix's demographic. Both sitebuilders are great for smaller product catalogs with visual interest, but Squarespace is nice if you specifically want a posh, classy, or even minimalist vibe for your store. This sitebuilder is also great for those who enjoy the freedom to easily tweak a design but don't feel hemmed in by a bit of built-in structure for ensuring a consistent style overall.
As far as standard ecommerce features go, it's a tough call between Wix and Squarespace. The two platforms take a slightly different approach, so you'll have to decide which features are a priority to you. For example, if you want an abandoned cart recovery tool and the ability to connect with popular third-party apps like accounting and shipping/fulfillment software, Squarespace will suit you better. I'd recommend skipping over the Business plan and going straight for one of the Commerce plans if you're at all serious about selling.
Quick Pricing Comparison
Before I share my final thoughts on choosing the best ecommerce website builder for your store, here's a quick rundown of the monthly subscription costs for each of the platforms we've discussed:
Pricing Levels
Differences Btwn. Levels

Shopify

Lite: $9/mo.

Basic: $29/mo.

Shopify: $79/mo.

Advanced $299/mo.

Plus: Custom

Available features
Number of staff accounts
Shopify's commission per sale

BigCommerce

Standard: $29.95/mo.

Plus: $79.95/mo.

Pro: 249.95/mo.

Enterprise: Custom

Available features
Annual store revenue

3dcart

Startup: $19/mo.

Basic: $29/mo.

Plus: $79/mo.

Pro: $229/mo.

Enterprise: Custom

Available features
Annual store revenue
Number of products
Number of staff accounts

Wix

Business Basic: $25/mo.

Business Unlimited: $30/mo.

Business VIP: $40/mo.

Storage
Customer service
Available features

Squarespace

Business: $26/mo.

Commerce Basic: $30/mo.

Commerce Advanced: $46/mo.

Available features
Squarespace's commission per sale
Remember that traditional website builders like Wix and Squarespace typically lead with "when paid annually" pricing, so we've adjusted the figures to reflect the cost if you pay month-to-month. All five services offer some sort of discount if you pay for at least a year upfront.
Final Thoughts
If you've made it this far, I hope you're excited about test-driving one or more of these ecommerce website builders. My guess is that you'll probably figure out if you're in the Shopify/BigCommerce/3dcart or the Wix/Squarespace camp first, but there's no reason you can't check out both types of software.
That said, anyone planning to scale their product and sales numbers dramatically over time should probably stick with one of the three ecommerce workhorse platforms. There's a reason sitebuilders like Wix and Squarespace cap their ecommerce plan subscriptions at under $50/month, while platforms like 3dcart, BigCommerce, and Shopify can charge upwards of $200 per month for their best ecommerce packages. You're usually paying for a larger quantity and better quality of features that help you manage the complicated logistics of selling online.
It's a safe bet, in this case, to use pricing as a general guideline for the ability to shore up and scale your backend functions as your store grows by various dimensions. Still, Wix and Squarespace would not be included here at all if they weren't both excellent options for smaller stores.
The thing that's hard to nail down in a summary article like this is the quality and usefulness of the features you'll need for your store. By listing a few highlights for each sitebuilder, we're just giving you a flavor of the software. While we can confidently say that all the platforms in this article cover the "basics" of running an online store, that assurance is no substitute for your own experience. If you're still stuck or confused after your research and testing, turn to the platform's customer service and sales support for clarification. You need a good excuse to put those support systems to work before signing up anyway, so go for it!
Happy software testing!
| | Shopify | BigCommerce | 3dcart | Wix | Squarespace |
| --- | --- | --- | --- | --- | --- |
| | | | | | |
| | | | | | |
| | Review Visit Site | Review Visit Site | Review Visit Site | Review Visit Site | Review Visit Site |
| Monthly Cost | $9 – $299 | $29.95 – $249.95 | $19 – $229 | $25 – $40 | $26 – $46 |
| eCom Features | Excellent | Excellent | Excellent | Good | Good |
| Ease Of Use | Very Easy | Easy | Moderate | Very Easy | Easy |
| Web Design | Great | Good | Good | Excellent | Excellent |
| Customer Support | Great | Great | Good | Good | Good |
The post Find The Best eCommerce Website Builder For Your Business appeared first on Merchant Maverick.
""