For many aspiring entrepreneurs, opening a boutique seems like a dream. After all, how many people can say they're making the world a little more stylish all while bringing in an income? In the past, boutique owners faced lots of challenges, such as finding retail space and acquiring necessary business licenses, but the internet has made opening a boutique easier than ever.
Of course, it still takes hard work and a little know-how to successfully set up, fund, and operate an online boutique. Whether you've delved into the world of online business before or you're new to entrepreneurship, this post is for you. We'll break down the critical steps to setting up an online boutique, explore how to secure funding for your new business, and give other tips for running your online store. Let's dive in!
Decide What To Sell
In order for your online boutique to be a success, you have to make sales. Obviously. However, before you can start bringing in money, you need to first decide exactly what your boutique will sell. In other words, you need to find your niche.
It may be tempting to go overboard and carry a little something for everyone. However, especially in the early stages of starting an online boutique, it's wise to start small and hone in on one particular area. If your focus is on designer clothes, plan to carry only women's clothing or only children's clothing. Or maybe you want your boutique to feature custom jewelry and accessories. In that case, don't muddy the waters with random sweaters and leggings.
Once you've got a broad overview of the customers you want to attract, it's time to narrow down your niche further. For instance, do you want to carry affordable yet trendy styles for the 13-18 crowd, or would you rather sell high-end, classic pieces for professional women? Remember, you want to start small. If your boutique becomes a success and you see a demand for other products, add them. For now, though, take the time to find out what's a hit … and what's a miss.
Deciding what to sell will not only help you determine what inventory to keep on hand and what products to promote, but it will also help you determine your branding strategy, from the colors you use on your website to the design of your logo.
Create A Business Plan
Whether you operate a traditional retail store or an online boutique, there's one thing all businesses need: a good business plan. Think of a business plan as a map of your business, outlining your goals and the steps you'll take to reach those goals. A solid business plan is critical for new businesses seeking financing from investors or traditional lenders like banks and credit unions.
Your business plan should include information such as:
Executive Summary
Company Description
Market Overview
Sales & Marketing Strategy
Operating Plan
Organization & Management Team
Financials
Source Inventory
With your niche selected and your business plan in place, you're getting closer to opening your boutique. However, before you launch your website and begin to make sales, you have to find and purchase inventory that will be used to stock your online store.
There are a few ways to source inventory. One of the most common ways to source your inventory is by using a wholesaler. Through a wholesaler, you can purchase items in bulk at a reduced rate. Typically, the more you purchase, the more you save. Wholesale suppliers can easily be found in the U.S. and overseas with a quick online search.
Keeping your niche in mind, search online and create a list of possible wholesalers to use for your business. Keep an eye on available items, pricing, minimum order requirements, and shipping costs to determine which wholesaler will be the best partner for your business.
One of the biggest benefits of purchasing from a wholesaler is that you will have more control over shipping your products to customers. You'll be able to control how products are shipped, as well as the packaging that your customers receive. This offers a better opportunity for branding your business.
However, purchasing your inventory through a wholesaler also has its drawbacks. This option may be more expensive based on minimum purchasing requirements. Packaging and shipping your own items could add on to your expenses. You may also incur additional overhead costs for the storage of your inventory.
If you don't want to work with a wholesaler, dropshipping is another option to consider for your boutique. With dropshipping, a third-party supplier fulfills the orders of your customers. Your customer places an order, the order is manually or automatically sent to your supplier, and the supplier is responsible for packing and shipping the order to your customer.
There are a few drawbacks associated with dropshipping. The supplier or manufacturer handles packaging and shipping, so you won't be able to personalize the packaging and branding of your shipped orders. You may also encounter some issues with inventory. If you house your own inventory, you'll be able to better account for what's in stock. A miscommunication with your dropshipping supplier could result in canceled orders or backorders, which could lead to unsatisfied customers.
Also, you have to consider that if something goes wrong, you are ultimately the face of your brand and you will be liable. If the wrong item is sent or there's another issue with an order, this reflects poorly on you, even if it's the supplier's fault.
No matter what route you take, it's important to properly vet any supplier you're using for your boutique. Request samples to check out the quality of products, find out if you'll have a dedicated contact to reach when there is a problem, and work with reputable businesses with a history of success in their industry.
Register Your Business
Before you start peddling boutique items, you'll need to register your business. For an online boutique, the process isn't too difficult.
Choose Your Business Structure
When you start your business, you'll need to select your business structure. For an online boutique, your best options are to operate as a sole proprietorship or limited liability company (LLC). An individual can operate as a sole proprietorship without having to file paperwork. However, it's often wise to take a few extra steps to set up an LLC, which will protect you in most cases from being held liable for your business' debt. You may also opt to operate as a corporation, which may be a good idea if you plan to bring on outside investors.
File State Paperwork
To form an LLC or corporation, you'll file paperwork with the state. For most business owners, this will be the state where you live and the business is formed. You'll not only file documents within this state but also pay a filing fee, which varies by state.
Take Care Of Finances
Before you start making money, you have to obtain a federal tax ID number from the Internal Revenue Service. If you're a sole proprietor or single-member LLC, you can use your Social Security Number.
If you don't have one already, you also need to open a business bank account to keep your business finances separate from your personal finances.
Meet Sales Tax & Licensing Requirements
As an online seller, you'll have to collect and pay sales tax for transactions that occur within your state. You can learn more about the requirements in your area by calling your state tax department.
You should also consult with city or county authorities to find out about business license requirements in your area.
Choose An eCommerce Platform
To boost your odds of running a successful online boutique, it's important to choose the right ecommerce platform. Your shopping cart software serves as a storefront for your customers while also providing you with the backend tools you need to keep your business operating smoothly.
Most entrepreneurs opt for a Software as a Service, or SaaS, platform. The benefits of a SaaS platform is that you don't have to download, host, or install anything on your own server. Instead, you pay a monthly subscription fee that covers hosting and software updates.
There are multiple platforms to choose from, and you can narrow down your choices by considering what factors are most important to you, such as pricing, add-ons and features, ease of use, and design options.
Unsure of which ecommerce platform is right for you? Take a look at our picks for the best ecommerce platforms for your small business.
| | Shopify | BigCommerce | 3dcart | Ecwid | Wix |
| --- | --- | --- | --- | --- | --- |
| | | | | | |
| | | | | | |
| | Review Visit Site | Review Visit Site | Review Visit Site | Review Visit Site | Review Visit Site |
| Monthly Cost | $9 – $299 | $29.95 – $249.95 | $19 – $229 | Free – $99 | $25 – $40 |
| Core Features | Great | Excellent | Excellent | Good | Good |
| App Store | Very Large | Large | Moderate | Moderate | Small/Moderate |
| Ease Of Use | Very Easy | Easy | Moderate | Very Easy | Easy |
| Web Design | Great | Good | Good | OK | Excellent |
| Customer Support | Great | Great | Good | Good | Good |
Build Your Website
What do you think when you walk into a brick-and-mortar store that's cluttered and disorganized? Does it make you want to spend hours shopping there, or do you immediately run for the door? The same principle applies to your online boutique. No customer wants to browse a website that's a complete mess.
The good news is you don't have to be an experienced web designer to get a professional-looking website. There are plenty of great website builders available online.  You can even set up your store in just minutes with your ecommerce software.
Platforms like Shopify have tools that make it easy for anyone to build their online store, even if they have no design experience. With SaaS platforms, you can take advantage of features including drag-and-drop interfaces, mobile optimization, color and font customization, and your choice of store theme.
When building your website, keep in mind your branding and your audience. You want your website to reflect the type of items you sell in your boutique. If you cater to the professional male, a pink floral theme will completely miss the mark.
You want to make sure your website is user-friendly. Categorize your products so they're easy to find. Add in high-quality photos of your products and detailed descriptions. In a brick-and-mortar store, customers are able to touch, try on, and inspect items before they purchase. With online shopping, customers have to rely on photos and descriptions to ensure they're making the right purchase. Make sure your customers know exactly what they're purchasing to keep customer satisfaction high.
Another important step in creating your website is selecting the right domain name. There are a few key points to remember here. First, you want to make sure your company name is front and center. You also want to keep your domain name as short as possible. Avoid adding numbers and hyphens. Keep it simple to make it easier for customers to find you.
When setting up your website, you'll also need to determine how you'll ship your orders. Will you offer only domestic shipping, or will you ship internationally? Do you plan to offer a flat rate, or will you charge by weight? Will customers be able to choose from several shipping options (such as next day), or will you offer just one option?
You also need to set up your payment processor. This allows your customers to pay for the products in their shopping carts. Many ecommerce platforms come equipped with tools for shipping and payments, including shipping calculators, built-in payment processors, and dropship integration.
Finally, make sure that your contact info is prominently featured on your website. If your customers have questions about your products or have a problem with an order, they need a way to get in touch with your business. Include your business phone number, email address, and links to your online boutique's social media websites. You may even consider adding additional features such as a live chat option as your business grows.
Before you go live with your boutique website, test it out. Make sure all links are working and there are no broken images. Hire a proofreader (or take on the job yourself) to make sure there are no typos in your copy or product descriptions. Take the time to make sure your website looks professional and is easy to navigate. Now, it's time to go live and unveil your boutique to the world!
Secure Funding
Starting an online boutique is more cost-effective than opening a brick-and-mortar store, but it doesn't come without its costs. Sure, you don't have to lease commercial space or purchase a point-of-sale system, but your business will have startup and operational costs.
Unfortunately, as a new online business, you're going to run into some obstacles when it comes to loans and other financial products. Traditional financing routes like bank loans will be unavailable to you because of time in business and annual revenue requirements. This doesn't mean you're stuck funding everything out-of-pocket, though. Read on to learn more about the funding options for your online business.
Personal Savings
While you don't have to pay for your startup costs out-of-pocket, you certainly can by tapping your personal savings. By going this route, you don't have to worry about paying interest to a lender or being stuck on a repayment schedule. You also don't risk going into default if you don't pay back the loan. Using your personal savings isn't without its risks, though. If your business fails, you've lost your savings.
Friends & Family
Pitch your online boutique to a friend or family member with money to invest in a new business. Just because you know this person, however, doesn't mean that you should just casually ask for money. Instead, prepare your pitch and have your business plan ready. If you decide to move forward with a loan, make sure to have a contract with all details in writing. All parties need to agree to all terms of the contract before signing.
What stands out about this option is that you are able to work out the borrowing amount and repayment terms that work best for you. And, of course, it goes without saying that you treat your friend or family member as you would any other lender by following the terms of the contract and repaying your loan.
ROBS
If you don't want to go the traditional loan route and want to bypass paying interest or making monthly payments, consider a Rollover for Business Startups plan, also known as a ROBS. If you have a qualifying retirement account, you could leverage these funds to finance your startup expenses.
Taking out your retirement savings early could result in financial penalties, but a ROBS offers a way to avoid paying these penalties. A ROBS can help you get the funding you need in just four easy steps:
Create a new C-corporation
Create a qualified retirement plan
Roll over the retirement funds into the new C-corp plan
Access your funds by purchasing stock in the corporation
Using a ROBS to fund your business is legal if done correctly. This is why business owners who choose this type of financing hire a ROBS provider to ensure everything is done by the book. With a ROBS provider, you typically have to pay a setup fee, as well as a monthly maintenance fee.
Be aware: You won't have to repay a lender or worry about interest charges, but if your business is unsuccessful, you do risk losing your retirement savings. Think carefully before moving forward with this option.
Recommended Option: Benetrends
Review

Visit Site

Borrower requirements (click to expand)

Hide
Benetrends is a ROBS pioneer, launching its innovative Rainmaker Plan in 1983. With this plan, you can cash in on your retirement plan to get the funding you need for your online boutique.
To qualify for a ROBS Rainmaker plan, you must have an eligible retirement account with at least $50,000. Most accounts qualify. However, Roth IRAs, 457 plans for non-governmental agencies, and distribution of death benefits from an IRA other than to the spouse do not qualify. There are no time in business, annual revenue, or credit score requirements.
Because this isn't a loan, there are no interest rates or repayment terms. However, to set up a ROBS Rainmaker plan, a setup fee of $4,995 is required. You'll also pay a monthly maintenance fee of $130, which covers audit protection, compliance, and other features.
Personal Loans
If you have at least a fair credit score, you may qualify for a personal loan that can be used to cover business expenses. Because this is a personal loan — not a business loan — you won't have to worry about your business credit score, time in business, and annual revenue requirements. Instead, approval will be based on your personal income, credit score, and credit history.
Recommended Option: Lending Club Personal Loans
Review

Check Rate

Borrower requirements for personal loans (click to expand)

Hide
Through Lending Club, you can borrow $1,000 to $40,000 with repayment terms of 3 or 5 years. Interest rates start at 5.32% and go up to 30.99% based on your personal credit profile. An origination fee of 1% to 6% of the total borrowing amount is deducted from your loan. No collateral is required to receive a Lending Club personal loan.
To qualify for a Lending Club personal loan, you must:
Be at least 18 years old
Have a solid debt-to-income ratio
Have a credit history of at least 3 years
Have a credit score of 600 or above
You can receive funds as quickly as 3 days after applying. However, there may be delays if additional documentation or information is required during the application process.
Lines Of Credit
As you get your online boutique off the ground, you'll encounter recurring expenses — think web hosting, SaaS subscriptions, and inventory. While your incoming cash flow should cover these expenses, it's not uncommon to come up a little short. When this happens, having a flexible line of credit in place will give you a financial boost when you need it.
How does a line of credit work? It's simple. A lender provides you with a set credit limit, similar to a credit card. When you need additional cash, you can make draws from this credit limit. When you initiate a draw, the money is deducted from your available funds and transferred to your business bank account. With many lenders, you can receive funds as quickly as the next business day. You'll repay the loan each week or month, along with interest and/or fees. As you repay the loan, funds will become available to use again.
A line of credit is a good thing to have because you can initiate draws as needed. If an emergency expense pops up or you have a sudden influx of orders that deplete your inventory, you'll have on-demand access to the cash you need for your business.
Recommended Option: Fundbox
Review

Visit Site

Borrower requirements (click to expand)

Hide
Through Fundbox, you can receive a line of credit up to $100,000. Repayment terms are 12 weeks or 24 weeks. Fees start at 4.66% of the draw amount. You only pay for the funds that you use, and remaining fees are waived when you pay your balance off early.
It's easy to qualify for a Fundbox line of credit. All you need to be approved is:
A business checking account
Business bank statements from the last 3 months
At least $50,000 in annual revenue
You can be approved just minutes after filling out Funbox's application, and you can initiate draws immediately once approved.
Purchase Financing
If you need extra time to pay your vendors, consider applying for purchase financing. With purchase financing, you can get the money you need to purchase inventory, equipment, or other business necessities immediately while breaking the total amount into smaller, flexible payments.
With this type of financing, the lender sends a payment directly to your vendor. You'll then repay the lender the balance — plus any fees and/or interest — on a weekly or monthly repayment schedule. You won't have to pay the total amount upfront, and paying over a longer period of time may be more financially feasible for your new business.
Recommended Option: Behalf
Review

Compare

Borrower requirements (click to expand)

Hide
Through Behalf, you can pay your eligible vendors between $300 and $50,000. You will have up to 6 months to repay your loan, and you can make payments on a weekly or monthly basis. Monthly fees start at 1% and are based on your creditworthiness. There are no hidden fees, no maintenance fees, and no costs to apply.
To qualify for financing through Behalf, there are no time in business or annual revenue requirements. Although the lender does not have minimum personal credit score requirements, credit history is taken into account and a hard pull will be performed to determine your eligibility.
Vendor Financing
If you make sales on a platform like Shopify or PayPal, you may qualify for vendor financing. With vendor financing, the performance of your business is the most important qualifying factor. Often, there are very low or no personal credit score requirements, so this may be a good option if you don't have a solid credit history.
With vendor financing, you'll receive a lump sum of money based on the performance of your business. In exchange for receiving the loan right away, you'll agree to give the lender a portion of your future sales until the loan plus fees and/or interest is repaid.
The only drawback to this option is that you must be making sales in order to qualify. If you need financing for startup costs and haven't yet made any sales, you'll need to explore one of the other options discussed in this article.
PayPal Working Capital
Review

Compare

Borrower requirements (click to expand)

Hide
If you accept PayPal payments, you may qualify for PayPal Working Capital. Through PayPal Working Capital, you can receive a loan of up to 35% of your annual PayPal sales. Repayments are based on a percentage of your future sales. Repayments are made daily when you have sales. If you don't have sales, a payment will not be made.
However, you must pay a minimum of 5% or 10% of your loan amount every 90 days to remain in good standing.
You'll pay just one fixed fee for receiving your loan. Your fee is determined by:
Amount of your loan
Repayment percentage
PayPal sales history of your business
PayPal Working Capital does not perform a credit check, and you can pay your loan off early with no prepayment penalties. You must be a PayPal seller to qualify for this loan program.
Recommended Option: Shopify Capital
Review

Visit Site

Borrower requirements (click to expand)

Hide
Shopify users may qualify for the Shopify Capital program. Through Shopify Capital, you can receive a merchant cash advance (MCA).
Shopify Capital is available by invitation only to qualified Shopify users. Once you receive an invitation, you'll be able to view your funding options. You can receive up to $500,000 through this loan program based on the performance of your business. Once you select the amount you'd like to borrow, you'll receive the loan, which is repaid through a fixed percentage of your daily sales until the loan plus fees are repaid.
There are no minimum credit score, annual revenue, or time in business requirements, but you must receive an offer from Shopify in order to apply.
Business & Personal Credit Cards
A business credit card is a flexible financing option if you want access to financing without having to wait for a lender's approval. Once you're approved, you'll receive a credit card with a set credit limit. You can then use your credit card anywhere it's accepted to purchase inventory, software, or pay for other business expenses.
Once you've used your credit card, you'll repay the borrowed portion of the funds, plus interest, on a monthly basis. As you pay down your balance, it will once again become available to use again. Some credit cards come with 0% introductory rates, bonus offers for new cardholders, and rewards programs, which can provide you with cash and other benefits just for using your card.
When applying for a business credit card, you'll need to include information about your online boutique, including your business name, federal tax ID number, and annual revenue. If you're just getting started or don't yet have your business set up, you can apply for a personal credit card. With a personal credit card, you'll sign up under your name using your own income — no business name or annual revenue required.
Recommended Option: Chase Ink Business Cash
Chase Ink Business Cash


---


Apply Now

Annual Fee:


---

$0

Purchase APR:


---

15.49% – 21.49%, Variable

More card details (click to expand)

Hide
If you have excellent credit, Chase Ink Business Cash is a card you should consider. With Chase Ink Business Cash, you'll receive 5% cash back for the first $25,000 spent on internet, cable, and phone services and office supply purchases each year. You'll receive 2% cash back for the first $25,000 spent at gas stations and restaurants each year. You'll also receive 1% cash back on all other purchases.
Chase Ink Business Cash has no annual fee and an introductory APR of 0% for the first 12 months. After the introductory period, the card has a variable APR of 15.24% to 21.24%.
Final Thoughts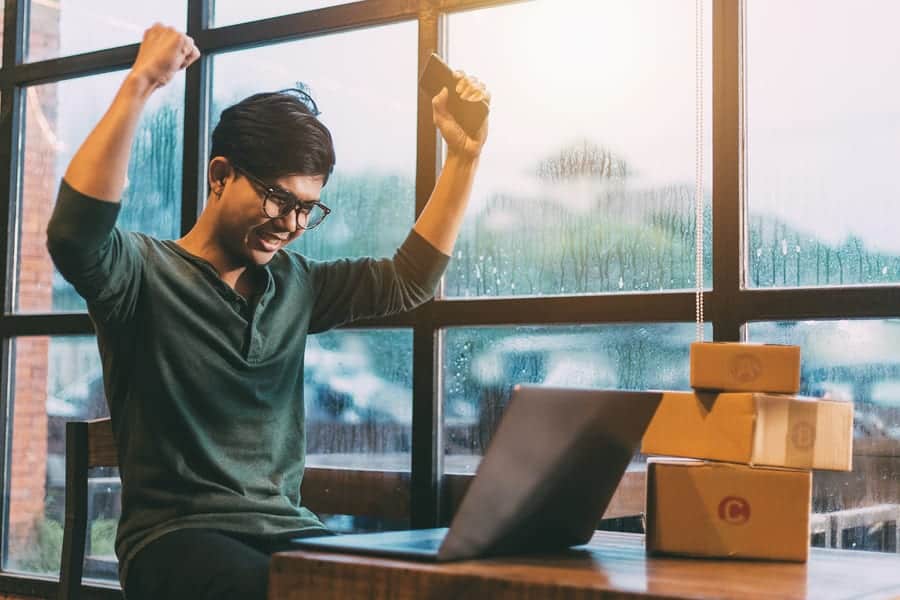 With careful planning, strategic financing, and a little hard work, you can start and operate your own online boutique. Take the time to learn about local regulations, build your brand and website, and curate a collection of high-quality products, and you'll soon be on the road to becoming a successful entrepreneur.
If you want to learn more about starting an online store, download our free ebook, The Beginner's Guide to Starting an Online Store. Then, when you're ready to scale your business, take some helpful tips from The Advanced Guide to Growing Your Online Store.
The post How to Start And Fund An Online Boutique appeared first on Merchant Maverick.
""