There's no such thing as a free lunch.
People like to say that, but if you get a literal lunch for listening to a sales pitch on something you've already decided to buy, then that lunch is free. The mobile processing industry, though, typically doesn't offer free lunches. Instead, they offer free credit card readers. These readers are usually simple swipe card readers or maybe EMV readers if you're lucky.
Card readers used in mobile processing are typically inexpensive to make, so they are perfect candidates for free giveaways to entice new merchants to sign up. For a small business just getting started, anything free is usually good, especially after looking at the retail price of some of the high-end readers in the market (or even a conventional credit card machine). However, mobile processing isn't just about the reader. It's about the suite of services and credit card processing.
So if you are looking for a mobile credit card processing app, don't make your decision based just on a free reader. Take a look at the app and the extra services provided as well as any upgraded card readers offered by the processor. Compare pricing and features to see if everything truly fits your needs. Even if you do not need any additional services right now, you might need them in the future, so make a plan if you can. Only after you've looked at the software and extra features should you take the free card reader into account and make your final decision.
Below, we give an introduction to how these mobile readers work and then talk about some commonly offered free readers. Hopefully, the information will help you make an informed decision for your business.
What Does A Swipe Card Reader Do?
Most people have used magnetic stripe, or magstripe, card readers before. They're the readers with a slot that you move a card quickly through. This movement allows the device to read the data from the magnetic stripe on the back of the card.
With mobile processing, quite a few of the free readers are magstripe only readers. You may already have seen some around — little white squares attached to phones, popularized by the third-party processor Square, who gives them out for free. To read payment card information, the reader gets inserted into a headphone jack or a Lightning port of a phone or tablet.
There are some disadvantages to using only a magstripe reader. To understand why lets first look at the technology of magstripe readers.
How Swipe Card Readers Work
Not everyone is hungry to learn the science behind every technology. For instance, you the merchant probably don't care that the magnetic stripe on a payment card has millions of tiny magnets in it. Or that each magnet is affixed in a north or south pole direction so that they can correspond to a zero or a one to make up a binary code to store data. You probably have no desire to learn that there are three strips of information stored in every magstripe. But so you know, the first and second strips store cardholder data, such as the primary card number, country code, cardholder's name, and expiration date. The third strip stores an encrypted PIN, the country code, currency unit, and the amount authorized.
What you care about is whether the card reader is connected to your mobile device correctly so that the card information gets sent to your card processor. It doesn't matter to you that a magstripe reader reads information off a credit card much like an old cassette player reads information from a cassette tape. (That's about how long we've been swiping credit cards if it's any indication.)
You might care, though, that this means that the credit card information on the magstripe can be easily stolen. Under some circumstances, you might get stuck with the loss on purchases made with that stolen card.
Credit Card Swipers Don't Protect You From Fraud
Back in 2015, to get merchants to adopt the more secure EMV (Europay, Mastercard, and Visa) technology (i.e., chip on the card), the credit card companies decided to shift some fraud liability onto those merchants who hadn't adopted the technology.
As of October 1, 2015, if a merchant only has a magstripe reader and a customer presents a stolen or fraudulent card with both a magstripe and a chip, the merchant would be responsible for the loss on the purchase. To shift the liability back to the credit card companies, the merchant need only have an EMV card reader.
Admittedly, if you're just starting your business and do not expect to take a high volume in credit card sales or if you only sell smaller ticket items, assuming liability for taking a fraudulent card might be a risk you're willing to take. That's fine, but we at Merchant Maverick do encourage you to upgrade to an EMV reader sometime in the future for your protection. There's little reason to delay upgrading because some free card readers in this article are combination EMV and magstripe readers, so you can eliminate the risk at no cost to you.
How Do You Get A Free Credit Card Reader?
A free credit card reader is not very difficult to find. Both merchant account providers and third-party processors will sometimes offer a free card reader to entice you to sign up for their mobile processing service.
Check Out Our Preferred Credit Card Processors 🏆Visit Site
Read Review
Visit Site
Read Review
Visit Site
Read Review
Visit Site
Read Review
No early termination fee
✓
✓
✓
✓
Pricing model
Interchange-plus*
Interchange-plus*
Interchange-plus*
Interchange-plus*
Rate matching / Negotiable
✓
✓
✓
✓
Next Steps
Visit Site
Visit Site
Visit Site
Visit Site
*All of our preferred processors use fully transparent Interchange-plus pricing.
See more information
Hide
We've done in-depth research on each and confidently recommend them.
A lot of third-party processors are also mobile processors. Their primary offering is usually the mobile app and card reader. Sometimes, they make money not only on processing cards but also on other value-added services related to running a business in general, services such as invoicing and payroll processing. (Yeah, we're looking at you, Square.) Once a merchant signs up, the processor will try to upsell and cross-sell these services to the merchant. It makes sense for some merchants — the centralized management of their business is an advantage.
Since an expensive reader can discourage signup, third-party processors often offer readers for free. They make it very obvious on their website that you can get a free reader. However, keep in mind that these services are designed for small businesses — they don't expect you to need a lot of equipment. Your first reader might be free, but you will typically have to pay for any additional readers.
As to merchant account providers, they typically work with more established businesses that can afford (sometimes expensive) countertop registers and credit card terminals. It's pretty rare to see credit card terminals given away for free. When they are, it's usually only a "rental," and you'll have to return the equipment when you leave the processor. However, as mobile processing becomes more and more popular, many merchant account providers are starting to offer mobile processing services as a convenience to their existing customers. With these mobile processing services, the merchant account providers do tend to give away free mobile credit card readers. Sometimes the information is clearly advertised but not always. You might need to contact your payment processor and ask if you're interested in adding on a mobile POS and card reader.
Let's be clear: Just because you'll get something for free doesn't mean that you should immediately sign up with a particular processor. There are some negative issues you might wish to consider.
Why You Should Be Wary Of Free Credit Card Reader Offers
As already alluded to earlier, free card readers are generally provided as loss leaders — something provided for free or at a drastically reduced cost to bring in a new long-term customer. Often, this means that the reader will be a lower-cost magstripe reader, with no EMV capability. If that is the case, then you might not be able to recover losses from purchases made with cards using stolen credit card numbers. At this late date, there is very little reason to settle for a reader that doesn't support chip cards, and doing so can make your business look a bit antiquated.
If you are getting a free mobile card reader (or a "free" device of any kind) from a merchant account provider, be aware that there could be a tradeoff. Of course, a top-rated merchant account provider such as Payment Depot will deal with their customers honestly and fairly and will give a free reader under their usual no-contract deal. Other merchant account providers, however, might require you to sign a contract to tie yourself to them for a more extended period. Read your contract carefully, so you understand which services you've signed up for and for how long. You should also understand how to get out of the contract if you're not happy with the provider.
Despite the negatives and our caveats, all of these free readers will be serviceable. If you need one of these devices to get your business off the ground or for occasional off-premises use (e.g., trade shows), then these free readers should fit the bill.
How To Find The Best Free Credit Card Reader
Below, we will highlight four free readers currently available in the market. But, before we delve into the specifics of each, we want to point out a few benchmarks you should think about when considering any free reader.
Reader Type: Typically, these readers will read magstripe and potentially EMV cards. It's unusual to get a contactless (i.e., NFC) reader for free. Keep in mind that a magstripe reader could create a liability issue for you under some circumstances, so it is better to have a reader that can take both magstripe and EMV.
Connection: There are two types of connections — physical connection or Bluetooth. The physical connectors can break off if you're not careful, and a reader that uses a Bluetooth connection still needs to be periodically charged. We typically recommend a Bluetooth connection over a physical one since smartphones and tablets seem to be phasing out the headphone jack. For example, all the recent iPhones and the Samsung Galaxy Note 10 do not have headphone jacks.
Software: A card reader is just a piece of hardware. Without its supporting software, the reader is useless. Each business is different, however, so its software needs are different. Some businesses will prefer a no-nonsense basic mobile processing app. Others might want additional functionalities, such as inventory tracking. Be sure to think through your software needs before you decide on a free reader.
Battery Life: Battery life applies to Bluetooth and/or EMV readers. Ideally, you want something that can last you at least one day, so you can process credit card charges without interruption.
Peripherals: A basic, pocketable magstripe reader that plugs into a headphone jack or Lightning connector won't have any peripherals, but Bluetooth and/or EMV readers need cables to charge them up. Other nice-to-have items include carrying cases, docks, clips, and even lanyards that allow the user to carry the reader without losing or damaging it.
Now, let's look at four simple readers that are available for free. For ease of reference, we've put the card reader comparison information into a table:
| | Payment Depot Swift B200 | Square Magstripe Reader | Shopify Chip & Swipe Reader | PayPal Chip & Swipe Reader |
| --- | --- | --- | --- | --- |
| Reader Type | EMV, Magstripe | Magstripe | EMV, Magstripe | EMV, Magstripe |
| Connection Type | Bluetooth | Headphone jack (for Android) or Lighting connector (for Apple devices) | Bluetooth | Bluetooth |
| Processing Software | SimpleSwipe | Square Point of Sale | Shopify Lite or Shopify POS | PayPal Here |
| Battery Life | 420 transactions | Not applicable | 400 chip or 700 swipe transactions | "all day" |
| Peripherals | Micro USB charging cable; mounting sticker | None | Stand, micro USB charging cable, mounting sticker, travel case | Device clip, micro USB charging cable |
There are plusses and minuses to any free card reader. Ultimately, the "best reader" is the one that fits with the specific needs of your business.
Swift B200 From SwipeSimple
The Swift B200 from SwipeSimple is a Bluetooth magstripe and EMV reader. The parent company, CardFlight, makes two models of readers: the B200 and the B250 (which we review here). The B200 is the less expensive of the two readers, and it lacks the NFC card reader function in the B250.
The B200 can pair with both iOS and Android devices. It uses a rechargeable battery that lasts about 420 transactions. There's a battery indicator LED light on the device, and the box includes a USB cable. You also get a lanyard and a carrying case.
SwipeSimple's mobile processing app is available through several providers, but we recommend Payment Depot. Payment Depot is one of our top-rated providers because of its great customer service and fair, transparent pricing. The company also offers a mobile processing plan exclusive to Merchant Maverick readers, which includes the B200 reader for free (you can upgrade to the B250 for $25). You'll pay $10/month plus 2.6% + $0.10 per transaction with no monthly minimums or additional fees.
We like the SwipeSimple app, and you can find more details about the app in our review. The app takes care of all your credit card processing needs without the clutter of too many extra features. If you're a no-nonsense kind of person, this might be the app for you.
SwipeSimple Swift B200 Fast Facts
Reader Cost: Free (when you sign up through Payment Depot)
Payment Types Supported: magstripe, EMV
Companion Software: SwipeSimple
Connection: Bluetooth
Square Magstripe Reader
The Square Magstripe Reader is, as its name says, just a magstripe reader. This reader has been Square's trusty free reader for many years, and it hasn't evolved much. Of course, when Apple stopped providing headphone jacks on its phones, Square had to adapt to come up with the Lightning connector for its reader. (Soon, it will have to adapt again for Android phones, as Samsung seems to be phasing out headphone jacks too.)
Square


---

Visit Site

Read our Review
The Square Magstripe Reader does not need charging, and it's small enough to fit in your pocket to be carried around. There's a certain elegance in that sort of simplicity, even though it's only a magstripe reader that can open the merchant up to liability from fraudulent cards.
Square does offer a tradeoff for that liability, and, for some, the risk might be worth it. The Square magstripe reader works with the very robust (and free) Point of Sale app as well as opening up the rest of Square's highly-rated (and value-added) services to you. In addition to processing cards at 2.75% per transactions, the Point of Sale app can also track inventory, manage employee hours, keep track of appointments, and do much more. So before you rule Square out based solely on its magstripe reader, we encourage you to think about your company's future needs and see if Square might be a fit for you after all. Here are our full Square review and our Point of Sale app review to help you make a better-informed decision.
If you decide you want to upgrade to one of Square's other devices later, Square offers financing for all hardware purchases starting at $49 — conveniently, the price of its Contactless + Chip card reader.
Square Magstripe Reader Fast Facts
Reader Cost: Free (additional readers $10)
Payment Types Supported: magstripe
Companion Software: Square Point of Sale
Connection: headphone jack or Lightning connector
Shopify Chip & Swipe Reader
Shopify is better known as an online shopping cart and eCommerce platform. With its free POS software and credit card reader, though, it appears to be branching into stores with physical locations. The Shopify reader is of a proprietary design. It's a magstripe and EMV reader that comes with a charging cradle. Packaged in a neat little carrying case, you'll also find a micro USB charging cable, mounting hardware, and everything else you need.
Shopify Lite


---

Visit Site

Read our Review
Shopify's Chip & Swipe Reader connects to a mobile device through Bluetooth. The reader can process 400 chip transactions or 700 swipe transactions on one charge. It works with Shopify POS, which runs on both iOS and Android devices. If you subscribe to any of Shopify's eCommerce plans, the POS app and hardware are included as part of your service. However, if you're just interested in the mobile app and some tangential eCommerce features, you can opt for the Shopify Lite plan, which goes for $9/month and 2.7% per transaction. It doesn't include access to all of the advanced features, but as a mobile offering, it's quite serviceable.
Be sure to check out our detailed review of the Shopify Chip & Swipe Reader. We have reviewed Shopify's eCommerce plans as well as its Shopify Lite plan and Shopify POS software. Take a quick look at the reviews and see if Shopify is a good fit for you.
Shopify Chip & Swipe Reader Fast Facts
Reader Cost: Free
Payment Types Supported: magstripe, EMV
Companion Software: Shopify POS (with eCommerce plan or Shopify Lite)
Connection: Bluetooth
PayPal Chip & Swipe Reader
PayPal first made its name as an online payments processor. These days it's more of an all-in-one solution for businesses, including its free mobile software, PayPal Here, and the free card reader that comes with it. Like most other free readers in this article, the PayPal Chip & Swipe Reader is a magstripe and EMV reader that connects to a mobile device via Bluetooth. The reader comes with a micro USB charger and a clip for attaching the reader to the mobile device.
PayPal Here


---

Compare

Read our Review
According to PayPal, the reader has enough battery to last all day. However, a little digging in the comments section of reviews and tech support messages suggests that some people have issues with the battery life. So you might want to proceed with caution if long battery life is important to you.
PayPal, like its closest competitor, Square, used to offer a free basic card reader. However, it discontinued that offer and implemented account restrictions on merchants who use the basic magstripe reader (see our PayPal Here review for more information on that). The free Chip & Swipe reader is a nice alternative to this policy. The mobile app is free to use, with transactions processing at 2.7%.
Signing up with PayPal gives you access to all its payment-related services. Make sure you understand the full scope of PayPal's business as you consider whether or not to get the PayPal Chip & Swipe Reader. And if you do want a mobile card reader with contactless support, check out the PayPal Chip & Tap reader.
PayPal Chip & Swipe Reader Fast Facts
Reader Cost: Free
Payment Types Supported: magstripe, EMV
Companion Software: PayPal Here
Connection: Bluetooth
As you look through the reviews, don't forget to look at the upgraded readers available from each provider. You might wish to take these readers into account, so you'll know how much more it might cost you in the future to upgrade.
Don't Be Fooled By The Promise Of A Free Card Reader
Mobile card readers are usually loss leaders used to entice merchants to sign up with a particular card processor. The free readers tend to be a simple piece of hardware without a lot of extras, and they tend not to be able to read NFC signals, so customers won't be able to tap to pay. For the card processors, free readers are merely a way to introduce you to their other services.
Before you sign up, it's important to research the processing company to make sure the mobile software and other features are worthwhile and that the pricing works for you. Otherwise, while you might get your free card reader, you will suffer the administrative headaches or reduced profits that come with choosing the wrong credit card processing company.
Lastly, don't forget to read our article, The Best Credit Card Readers For Your Small Business, for a truly comprehensive discussion on the best card readers in the marketplace today.
Have you used any of these free readers? If so, what's your experience with them?
The post The Best Free Credit Card Readers For Small Businesses appeared first on Merchant Maverick.
""
Business owners today know that it's more important than ever to be able to accept credit cards. Customers carry less cash, and rely on credit and debit cards for the majority of their purchases. If you're an eCommerce merchant selling online, taking "plastic" is just about your only option. Unfortunately, you can't accept credit cards unless you have a merchant account, and merchant accounts aren't free. In fact, they can be very expensive – especially for a small business – if you choose the wrong provider.
The credit card processing industry can be very bewildering, especially for a first-time business owner. There are dozens of companies providing processing services, and each of them offers different processing rates, fees, and contract terms. A provider that's a good deal for a very small business might be prohibitively expensive for a larger one, and vice versa. Naturally, merchants want to cut through the confusion and get a quick answer to the question "Which one is the cheapest?" There's nothing wrong with wanting to save money, especially for a new business that has to count every penny. However, if you look up "cheap" in the Merriam-Webster Dictionary, you'll note that while cheap can mean "charging or obtainable at a low price," it can also mean "of inferior quality or worth." If you've ever been disappointed with a product purchase when you thought you were getting a good deal, you know that these two definitions often go together.
Here's a quick look at some of our favorite low-cost credit card processors. Some are free to use. You just pay for the transaction you process. We don't cover all of these in-depth in this post, but you can check out our complete reviews for all the details. 
The Overall Cheapest Credit Card Processing Companies for 2018
Review
Visit Site
Review
Visit Site
Review
Visit Site
Review
Visit Site
Review
Visit Site
Best Choice For
Small-ticket, Canada, Mobile, eCommerce 
All businesses, Mobile, Retail
eCommerce, Mobile
Canada, Restaurants
Large-ticket, All-in-one, Recurring billing
POS and Other Features Included
Yes
Yes
Yes
No
Yes
Rate Matching/ Negotiable
No
Yes
No
Yes
Yes
Pricing Structure
Flat Rate
Interchange-Plus
Flat Rate
Interchange-Plus
Subscription
Retail Rates
2.75%
0.30% + $0.10
2.70%
0.20% + $0.10
0.00% + $0.08
Basic Monthly Fee
$0
$0
$9
$9.95
$99
Before we delve into specific processors, there are two important points that you need to understand:
The company offering the lowest processing rates or fees isn't necessarily the cheapest. The total percentage of your credit card sales that you'll have to fork over to your merchant account provider isn't an easy thing to calculate in advance with any precision. Variable processing rates and hidden (or at least unanticipated) fees can easily result in you paying much more than you thought you were going to for processing. Companies offering flat-rate pricing fare much better in this regard, as their simple pricing structure makes it relatively easy to estimate your monthly processing costs.
The "cheapest" processor isn't necessarily the best one for your business. While you naturally want to be able to accept credit cards while paying the least amount of money for the privilege, companies offering the lowest rates often cut corners in other aspects of their service to make those low rates possible. Poor customer service, for example, is a common problem among the least-expensive processors. If you want the best overall, you might also check out our top picks for small business credit card processing.
Types Of Providers
With the advent of new, low-cost providers, there are now two broad categories of companies providing credit card processing services. These include traditional (or full-service) merchant account providers, and payment services providers, who offer credit card processing, but without some of the features of a full-service merchant account. It's very important that you understand the difference between the two.
Payment service providers (PSPs) can process your credit card transactions, but they don't provide you with a unique merchant ID number for your business. Instead, your account is aggregated together with other merchants. This lowers the cost of things like monthly account fees and PCI compliance, but it also means that your account is much more vulnerable to being suddenly frozen or shut down for the slightest hint of fraud. Getting your account working again is complicated by the fact that most PSPs provide little in the way of one-on-one customer service. For a very small business, a PSP may very well be more affordable than a full-service merchant account, especially since you won't have to pay so many recurring fees just to keep your account open. Be aware, however, that you'll constantly be running the risk of suddenly losing access to your account and not being able to accept credit cards at all with a PSP. If your business processes a high number of credit card transactions on a daily basis, the loss of business you'll incur if your account is frozen is quite high. Popular PSPs include PayPal, Square, and Stripe.
Traditional merchant accounts include a number of features you won't find with most PSPs. The primary distinction is that you will be assigned a merchant identification number that is unique to your business. This number automatically identifies you to processors, issuing banks, and credit card associations. While it might not sound like much, having a unique merchant ID number helps to lower the risk of fraud and improves the stability of your account. While you still might have to endure a hold on funds for an unusually large transaction, the chances of your account being completely frozen for no apparent reason are much less than they are with a PSP. Merchant account providers also offer a host of ancillary services, including PCI security scans, customizable payment gateways for online payments, support for ACH (eCheck) payments, and many others. These bells and whistles don't come cheap, of course. You'll pay more in monthly fees than you will for an account with a PSP. However, you'll also pay lower processing rates, especially if your merchant account provider offers interchange-plus pricing. For many medium-sized and larger businesses, a full-service merchant account will actually be less expensive than a PSP.
How We Chose
We used a number of criteria to determine which processors offered the lowest overall costs and the best service in most situations, including the following:
Pricing: Since we're profiling the cheapest processors in the industry, it should come as no surprise that pricing would be our top criterion. It isn't that simple, however. Pricing can be very complex, and there are a lot of variables to analyze in making a cost comparison between one provider and another. Fortunately, flat-rate pricing is relatively easy to analyze, as there's usually little or no variability in the processing rates. Interchange-plus pricing, on the other hand, is very complex, as there are a bewildering number of possible rates charged under the "interchange" portion of the processing rate formula. To get a better idea of just how complicated processing rates can be, check out our Complete Guide to Credit Card Processing Rates & Fees.
Contracts: No one wants to be stuck in a long-term contract with an expensive early termination fee if you close your account early, but that's what many traditional merchant account providers will offer you. All the companies profiled here – including both PSPs and full-service merchant account providers – offer month-to-month contracts. You can close your account and switch to a different provider any time you want, and with no penalty.
Hardware: Unless you're running an eCommerce-only business, you're going to need some equipment to process your customers' credit cards. Most of the companies profiled here offer a variety of EMV-compliant credit card terminals, POS systems, and mobile card swipers. Equipment is offered for sale at competitive prices – sometimes it's even free! You can also buy your own equipment and have it reprogrammed to work with your provider's service. Note that Stripe is eCommerce-only and PayPal only offers a mobile payment solution through their ancillary service, PayPal Here.
eCommerce support: Buying online continues to overtake traditional retail shopping, and all our profiled providers offer support for eCommerce. This includes both a payment gateway to send payment data to the processor and a virtual terminal to allow you to enter transactions on your computer or mobile device. Each provider also offers options for integrating your website with online shopping carts and developer tools for customizing the interface between your site and their services.
Customer support: While every provider offers customer support and service, some do a much better job at it than others. We looked for vendors that provided 24/7 telephone support, as well as an online knowledgebase that allows merchants to troubleshoot common problems on their own. As we've noted, some PSPs don't provide very good customer support at all. That's one of the trade-offs you'll have to be aware of if you want to go with the "cheapest" option for credit card processing.
Remember, there isn't a single processor out there that can offer the lowest costs to every merchant. What might be a very inexpensive solution for you might not be such a good deal for someone else. Also, paying the least amount of money for processing won't be of much use to you if you have to worry about your account suddenly being frozen or shut down, or if the customer service behind your account isn't adequate to solve technical problems for you when they arise. That said, here are our six top choices for the cheapest credit card processing companies:
Square Payments
Everyone has heard of Square (see our review) by now. With its free Square Reader, app-based payment system, and simple pricing structure, it's one of the most popular processing services on the market for small businesses. Square's pay-as-you-go system allows businesses that ordinarily couldn't afford a merchant account to accept credit cards.
Retail businesses love Square for its low-priced card readers, which replace traditional credit card terminals with a smartphone-based system that's both affordable and mobile. In addition to a card reader, you'll need the free Square app, a smartphone, and an Internet connection. Square's original card reader is free and you'll receive one when you open your account. However, it can only read magstripe cards and requires a headphone jack to function. Most users will want to shell out a few extra bucks for a newer, EMV-compliant reader. The Square reader is only $49.00, and supports both EMV and NFC-based payment methods. It also uses Bluetooth to connect to your smartphone or tablet – no headphone jack required.
Cheapest Mobile Credit Card Processing Company
The Essentials:
✓ $0 monthly fee
✓ 2.75% for all card-present transactions
✓ Exceptional POS app included free
✓ Free credit card reader available
Proprietary software suite includes:
• Point of sale software
• Inventory management
• Mobile app
• Virtual terminal
• Invoicing/billing
• API for custom solutions
Visit the Square website
Read our Square review
Square's pricing structure is about as simple as it gets. There are no monthly fees whatsoever for a basic account, and none of the types of "hidden" fees that traditional merchant account providers like to tack on. While some advanced features require a monthly subscription, these are entirely optional, and most businesses probably won't need them. Square's processing rates are also very simple:
2.75% for all card-present transactions (including magstripe, EMV, and NFC)
2.90% + $0.30 for all invoices and eCommerce transactions
3.50% + $0.15 for all virtual terminal and keyed-in transactions
That's it! You don't have to worry about non-qualified transactions, batch fees, or anything else. Funds are deposited into the user's account within 1-2 business days in most cases. Billing is month-to-month, so you don't have to worry about long-term contracts and early termination fees. You can quit anytime you want without penalty.
This all sounds great – and it is – if you're a small business that has to watch every penny and can't afford to shell out a significant amount of money every month just to have a merchant account. For a larger business, however, Square's pricing actually isn't the best deal available. Flat-rate pricing is deliberately on the high side because it has to pay for all the other services that most providers bill you separately for. At a certain point (roughly $10,000 per month in processing volume), you're actually better off going with a full-service merchant account provider that offers interchange-plus pricing. Yes, you'll have to pay those pesky account fees, but your processing rates will be so much lower that you'll save money overall.
Besides high processing rates, Square has a few other drawbacks as well. We've already mentioned that your account is much more likely to be frozen or terminated unexpectedly, but what makes this situation worse is that Square's customer service isn't so great. The company didn't even have telephone support for several years after it launched, but it does now. Unfortunately, it's only available during business hours, and the large number of complaints about it suggests that the quality of support you'll receive if you call in with a problem is inconsistent at best.
But is it really the cheapest way to go? Well, it depends. For a very small business that doesn't have a high processing volume, Square's lack of account fees and predictable pricing can make it very affordable. On the other hand, a larger business with a high processing volume will end up paying much more under those flat-rate prices than it would with an interchange-plus pricing plan.
Square keeps costs low by aggregating accounts together rather than issuing each user a unique Merchant ID number. Because of this, you won't get a true full-service merchant account. The trade-off is that there's a much higher chance that your account will be frozen or terminated without notice if fraud is suspected. This might be a minor inconvenience to a retail business that mostly deals in cash and only occasionally takes credit cards, but it's catastrophic to an eCommerce business where cash isn't an option.
PROS:
No monthly account fees
Low-cost EMV-compliant card readers available
No long-term contracts or early termination fees
CONS:
Not a full-service merchant account; no unique Merchant ID number
Frequent account holds and terminations
Flat-rate pricing is more expensive than interchange-plus for larger businesses
For a more detailed look at Square, be sure to check out our full review.
Payline Data
Payline Data (see our review) covers all the bases for small business transactions, from mobile and online payments to in-store sales. They offer easy-to-understand pricing plans that are very affordable, especially for low-volume sellers. However, the company's website fully explains all of the extra features and their associated costs, so you know up front what you'll have to pay. Payline also stands out from the crowd for their corporate philosophy of charitable giving and support for non-profits through discounted pricing and their "Commercial Co-Venture" program.
Cheapest Merchant Account Provider
The Essentials:
✓ No early termination fees
✓ Transparent interchange-plus pass-through pricing
✓ Outstanding $0 monthly fee option
✓ Exceptional ecommerce shopping cart compatibility
Proprietary software suite includes:
• Excellent mobile processing app
• Easy integration API for customization
• Virtual terminal
• Billing management
Visit the Payline website
Read our Payline review
For brand-new or mobile businesses, Payline Start is the most affordable plan. There's no monthly fee, and pass-through markup rates are set at 0.30% + $0.10 per transaction. In addition to the free virtual terminal, you'll also receive a free Ingenico GX5 card reader and the Payline Mobile app to go with it. If you're looking for value, but want better equipment and lower rates, the Payline Shop plan might be right for you. This plan includes the same features as the Payline Start plan, but lowers your processing rate. The plan costs $10 per month, and markup rates are set at 0.20% + $0.10 per transaction. Mobile businesses and small to medium retailers will benefit the most from this plan.
For more information, see our complete Payline Data review.
CDGcommerce
No account setup fees. No PCI compliance fees. No gateway fees. No monthly minimums, either. There's a lot of things that CDGcommerce (see our review) doesn't charge you for, making them a very affordable option for small businesses and those just getting off the ground. They also offer month-to-month contracts with no early termination fee, so in the unlikely event that you aren't happy with their service, you can close your account without penalty.
So, what do you pay for? Besides processing charges, you'll only have to pay a $10.00 monthly account fee. This gets you both a full-service merchant account and a payment gateway. You can select either CDG's own proprietary Quantum gateway or Authorize.Net. Either way, there's no fee for using the gateway, and no additional per-transaction processing fee. While this is a great deal, you also have the option of adding the cdg360 security package for an extra $15.00 per month. It comes with customized security alerts, PCI-DSS vulnerability scans, and $100,000 in data breach/theft protection. It's well worth paying a little extra for, especially for eCommerce merchants.
Good Option for Online Payment Processing
The Essentials:
✓ No early termination fees
✓ Transparent interchange-plus pass-through pricing
✓ Free payment gateway option with activation within an hour
✓ Exceptional ecommerce shopping cart compatibility
✓ Over 20 years with excellent reputation
Proprietary fraud prevention suite includes:
• Automatic high-risk order detection
• Dialverify phone order verification
• Cardholder authentication (VbV/MSC)
• Chargeback defender
• Easy integration and API for customization
Visit the CDGcommerce website
Read our CDGcommerce review
We don't recommend leasing a credit card terminal, but CDG has a program that's very different from traditional leases, and is actually a good deal. For only $79 per year (for terminal insurance), CDG will provide you with a terminal and keep it updated. This works out to $6.58 per month, a fraction of what most terminal leasing companies will charge you. If you need a wireless terminal, you'll also have to pay $20.00 per month for wireless data and an additional $0.05 per transaction in processing fees.
You won't need to negotiate with CDG to figure out your processing rates. All their rate plans are interchange-plus and are fully disclosed on their website. The company offers a choice between Simplified and Advanced pricing plans, with Simplified pricing being designed for merchants processing less than $10,000 per month, and Advanced pricing being for those processing $10,000 or more per month. Here are their current rates:
Simplified Pricing:
Online: interchange + 0.30% + $0.15 per transaction
Retail (swipe or POS): interchange + 0.25% + $0.10 per transaction
Mobile: interchange + 0.25% + $0.10 per transaction
Non-profit: interchange + 0.20% + $0.10 per transaction
With very low account fees and competitive interchange-plus processing rates, CDGcommerce offers a great combination of price and value. If you've been using Square or PayPal and want to upgrade to a full-service merchant account, they're an excellent option.
PROS:
Interchange-plus pricing
Month-to-month billing with no long-term contracts or early termination fees
Free payment gateway with virtual terminal
Excellent customer service
CONS:
Only available to US-based merchants
For more information, see our complete review here.
Dharma Merchant Services
Headquartered in downtown San Francisco, California, it should come as no surprise that Dharma Merchant Services (see our review) is far more socially responsible than just about any other merchant account provider in the industry. For you, that enlightened corporate philosophy translates into fair and transparent pricing, reasonable contract terms, and excellent customer support.
Because they don't try to squeeze extra money out of struggling small business owners, you won't have to pay an account setup fee or an annual fee. There's no monthly minimum, either. You will pay a $10.00 monthly fee and a $7.95 per month fee for PCI compliance. Other fees (most of which are per-occurrence, such as chargeback fees) are fully disclosed on their website. Like many of our other favorite processors, Dharma doesn't have long-term contracts, either. Billing is month-to-month, and there's no early termination fee if you close your account.
Good Option for Nonprofits and B2B Payments
The Essentials:
✓ Provides discounted rates for nonprofits
✓ Exceptional customer service
✓ Transparent interchange-plus pass-through pricing
✓ Proven track record with nonprofits
Free MX Merchant Software includes:
• Level 2 and level 3 data for lower interchange rates on B2B processing
• Virtual terminal
• Invoicing/billing
Visit the Dharma Merchant Services website
Read our Dharma Merchant Services review
The company uses interchange-plus pricing exclusively and lists their rates right on their website. Here's their current processing rate information:
Storefront: interchange + 0.25% + $0.10 per transaction
Virtual: interchange + 0.35% + $0.15 per transaction
Restaurant: interchange + 0.20% + $0.07 per transaction
If you need a terminal, Dharma will sell you either the First Data FD-130 or Verifone Vx520. They'll also reprogram your existing terminal, if you have one. Need a POS system? Dharma offers the Clover Mini, and will sell it to you outright rather than leasing it. If you need a mobile payments system instead, Dharma offers the Clover Go for $99.00, plus a $10.00 monthly fee. For $139, you can upgrade to the Clover Go Contactless, which connects via Bluetooth instead of your phone's headphone jack.
Dharma doesn't have a minimum monthly volume requirement, but they do acknowledge that their fees and rates aren't the lowest on the market for businesses that process less than $10,000 per month. You're still free to sign up if you need a full-service merchant account, but they recommend either PayPal or Square if you don't.
PROS:
Transparent interchange-plus pricing
Minimal account fees
Full range of services and equipment for both retail and online businesses
Great customer support
CONS:
Not a good fit for low-volume (less than $10,000 per month) accounts
For more information on Dharma, see our complete review here.
Helcim
Headquartered up in the Great White North, Helcim (see our review) provides outstanding service and affordable prices to both Canadian and US-based merchants. They offer interchange-plus pricing exclusively, and their website features one of the most detailed and transparent explanations of their rates and fees that you'll find anywhere.
Transparency and honesty are major themes with Helcim, which is something you won't often find with many other providers. Reading their website will give you a quick education on all the sneaky, misleading tricks that other companies use to squeeze more money out of their merchants. Fortunately, you won't have to worry about this kind of behavior with Helcim. Not only do they fully disclose their processing rates, account fees, and contract terms, but they also provide all their services at fair, competitive prices.
Good Option for Canadian Businesses
The Essentials:
✓ No early termination fees
✓ Transparent interchange-plus pricing
✓ Exceptional reputation in Canada
✓ High-quality all-in-one payment platform
✓ Great educational material
Proprietary Helcim Commerce solution includes:
• Point of sale software
• Inventory management
• Billing and invoicing
• Virtual terminal
Visit the Helcim website
Read our Helcim review
Unlike many of their competitors, Helcim encourages merchants to buy their credit card terminals outright rather than leasing them. The company offers a number of popular models, most of which are EMV-compliant. For a little extra cash up front, you can also get an NFC-capable terminal that supports Apple Pay and other similar mobile payment methods. If you already have a terminal, they'll reprogram it to work with their system for free. Unfortunately, Canadian EMV-compliant terminals are not designed to be transferred or resold, so Canadian customers will have to use the rental option or buy a new machine. Renting on a month-to-month basis (which is not the same as leasing) is usually the best choice for Canadian merchants.
Helcim offers three basic pricing plans: a Retail Plan, an eCommerce Plan, and a combined Retail + eCommerce Plan. The Retail Plan costs a flat $15.00 per month. This fee covers PCI compliance, and there are no account setup or statement fees. There's also no monthly minimum. All swiped transactions are processed at a rate of interchange + 0.25% + $0.08 per transaction.
Helcim's eCommerce Plan works the same way, but it costs $35.00 per month. This gives you access to the company's proprietary Helcim Payment Gateway, which includes support for recurring billing, a customer information storage system, shopping cart integration, and a customizable payment gateway API. The plan also includes a virtual terminal that allows mail order or telephone order businesses to key in transactions on any computer. All online (i.e., card-not-present) transactions are processed at a rate of interchange + 0.45% + $0.25 per transaction.
The Retail + eCommerce Plan includes all features of the other two plans, and costs $50.00 per month. Processing rates are the same as for the other two plans.
There are few downsides to Helcim's services. One way they're able to keep costs so low is to exclude high-risk merchants from signing up. This policy lowers the company's overall risk profile, but it also means you'll be out of luck if you meet their high-risk criteria. Because they charge a monthly fee (albeit a very reasonable one), they're also not quite as affordable as Square, PayPal, etc. if you're processing below $2,500 per month. We're also still waiting for the company to introduce an EMV-compliant mobile card reader. They currently offer a basic, magstripe-only reader that requires a headphone jack to communicate with your smartphone or tablet.
PROS:
Extremely transparent fee structure
Very competitive rates for businesses processing over $1,500 per month
Excellent customer service and support
CONS:
Not suited for very small businesses processing less than $1,500 per month
Not available for high-risk merchants
Mobile card reader isn't EMV-compatible
For more information, see our complete review here.
Popular (But Less Reliable) Inexpensive Options
PayPal
Everyone has heard of PayPal (see our review). And just about everyone uses it. With an active user base of almost 200 million customers in 200 markets around the world, it's a good bet that most of your customers use it, too. But can the company fill all your processing needs? The short answer is yes. PayPal has all the features you would need to run a business – either retail or eCommerce – using just their payment processing services and equipment. But would this be cost-effective? Here's where it gets complicated. While the company offers flat-rate pricing and no monthly fees for its basic accounts, those flat-rate prices are kind of on the high side. Also, if you need features such as a virtual terminal, your account isn't free. Instead, it's $30.00 per month, plus your processing charges.
PayPal doesn't offer true, full-service merchant accounts. Instead, they function as a payment service provider (PSP), which keeps costs relatively low, but also means that they're quick on the trigger to freeze your account if they suspect that fraud has occurred. Like most PSPs, they don't have long-term contracts and don't charge early termination fees. Billing is month-to-month, and an account that doesn't have a monthly fee is good for a business that only processes credit card transactions occasionally.
PayPal's basic rate for online transactions is 2.9% + $0.30 per transaction. International payments and transactions processed through their virtual terminal cost more, while registered charities and mobile payments get a discount. PayPal fully discloses their rates on their website, so you'll always know in advance what you'll be paying.
While PayPal is designed primarily for eCommerce businesses, the company also supports retailers through integration with numerous third-party mobile POS systems and their own mobile payments system, PayPal Here. The latter now includes a Bluetooth-enabled EMV card reader. While many companies offer a free virtual terminal, but charge a monthly fee for the payment gateway needed to use it, PayPal does just the opposite. Their PayFlow Payment Gateway comes with no monthly fee, but if you also need a virtual terminal, you'll pay $30.00 per month for it. There's also a small additional per-transaction processing charge.
While these are all great features, there are also some not-so-great things about PayPal that you should be aware of before you sign up. Customer support through their telephone support line is very inconsistent. Some customer service representatives are quite knowledgeable and helpful, while others are not. Fortunately, the company provides an online knowledgebase that should help you solve common problems on your own. As we've mentioned, sudden account holds or terminations are also a possibility. If you simply can't afford to lose access to your account temporarily, consider a different option.
For some businesses, PayPal is really all you need. If you don't need a virtual terminal or any of the other features of the $30 PayPal Payments Pro plan, you can avoid monthly fees altogether and operate on a pay-as-you-go basis. For larger businesses and those with more specialized needs, PayPal makes an excellent secondary payment option on top of your regular merchant account.
PROS:
No monthly fees (for standard account)
Transparent flat-rate pricing
Most customers have a PayPal account
CONS:
High flat-rate processing charges
Frequent account freezes, holds, and terminations
Inconsistent customer support
For more detailed information about PayPal, see our complete review here.
Stripe Payments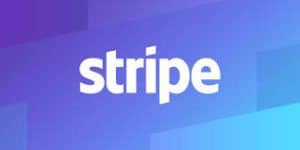 Just like Square is popular with small retail businesses, Stripe (see our review) is the darling of the eCommerce world. The company functions as a payment service provider (PSP), aggregating accounts and keeping costs low for their clients. There are no monthly fees, and their flat-rate processing plan is extremely simple.
Stripe is so focused on eCommerce that they don't offer much of anything to retailers. There are no credit card terminals, POS systems, or even mobile payments systems for your smartphone or tablet. So, if you're a retailer, you can skip right on ahead to the next company profiled below. Stripe is not for you.
eCommerce-only merchants, on the other hand, will find a very robust variety of services to help them sell online. Integration is the name of the game at Stripe, and their payments processing service works with just about every online shopping cart on the market. They also have a vast library of APIs that allow businesses to customize the interface between Stripe and their websites. If you'd like to sell your products through your own app as well as on your website, they offer an impressive in-app purchasing capability.
So, how much does all this techy goodness cost? The short answer is not much – at least under certain circumstances. Since all your transactions will be processed online without a physical card being swiped or dipped, Stripe charges a flat 2.9% + $0.30 for all credit and debit card transactions. eCheck (ACH) and Bitcoin payments are charged a mere 0.8% per transaction. This is the same rate that Square and PayPal also charge for online transactions. There are no additional account fees, although you will be charged $15.00 for each chargeback. Chargeback fees are unavoidable with any processor, but unlike most companies, Stripe will refund your money if the chargeback investigation comes out in your favor.
You also won't have to worry about long-term contracts or early termination fees, as Stripe bills on a month-to-month basis. This is a useful feature for a growing eCommerce business, as Stripe's flat-rate pricing suffers the same flaw that plagues Square and PayPal: for a high-volume business, their flat-rate pricing is actually more expensive than what a full-service merchant account can provide through interchange-plus pricing.
While Stripe has some very impressive features, it also has a few serious drawbacks. Like other payment service providers (PSPs), account holds and terminations occur frequently and without notice. Stripe uses a machine learning-enabled algorithm to scan accounts for possible fraud, and it's definitely programmed to err on the side of caution. This wouldn't be so bad if you could call up a human customer service representative on the phone and resolve the situation. Unfortunately, you can't – Stripe doesn't offer telephone support at all. Instead, you'll have to contact the company through email and wait for a response. Judging from the many complaints about Stripe's customer service, the quality of those responses leaves a lot to be desired.
Despite its shortcomings, Stripe is a good choice for a new eCommerce venture. You'll enjoy pay-as-you-go service with no monthly fees, and you won't have to worry about long-term contracts. The company's extensive library of developer tools can offer you options that you might not be able to find with other providers. Just be aware that when your business grows beyond a certain point, you'll need the security and reliability of a full-service merchant account. You'll also save money on processing charges by switching to interchange-plus pricing.
PROS:
Simple flat-rate pricing structure
No additional fees or long-term contracts
Huge API library for developers
CONS:
Flat-rate pricing is more expensive than interchange-plus for high-volume merchants
Frequent account holds and terminations
No telephone customer support
For more information, see our complete review here.
Final Thoughts
As you've probably noticed by now, pricing for credit card processing is a ridiculously complicated subject. With dozens of interchange rates and a wild assortment of fees, trying to figure out how much accepting credit cards is going to cost your business inevitably comes down to guesswork. While you can make a reasonable estimation based on your processing history and your business type, it's not realistic to expect that you'll be able to come up with a precise figure. Fortunately, the companies we've profiled here fully disclose their processing rates and fees, making your job of estimating your costs much easier.
We've only listed six of the most popular and most affordable processors here, so be aware that the cheapest processor for your particular business might not be one of them. There are plenty of other providers out there who are also competing for your business, so check them out, too!
Here are a few very general rules of thumb regarding merchant account pricing:
If your business has a low processing volume, you'll want to find a provider with low monthly and annual fees. One of the most appealing aspects of Square or PayPal is that they don't charge any monthly fees. This is a great feature if your business is seasonal or you only occasionally have a need to accept credit cards. Processing rates won't be as important for low-volume merchants.
If your business has a high processing volume, fees aren't as important, and you'll want to get the lowest processing rates you can find. Paying one or more monthly fees for a merchant account is an insignificant expense for a larger business, but higher processing rates can make a serious dent in your profits.
Carefully analyze both the percentage rate and the per-transaction processing fee when evaluating rates. While you'd ideally like them both to be low, which one is more important will depend on your average transaction size. If you process a lot of smaller transactions, a $0.30 per transaction fee can add up quickly. On the other hand, if your transactions are usually larger, you won't need to be as concerned with the per-transaction fee, and should try to get the lowest percentage rate you can find.
While all the companies we've profiled here provide excellent service at an affordable cost, some are better suited to particular types of businesses than others. Square, for example, works best for very small retail businesses. PayPal and Stripe, on the other hand, are a better fit for small eCommerce merchants. Full-service merchant account providers like Helcim, CDGcommerce, and Dharma are more well-rounded, but CDG is a better fit for smaller businesses, while Helcim and Dharma work better with larger ones. For a side-by-side comparison of some of the companies listed here (and a few other excellent providers), please see our Merchant Account Comparison Chart.
| | | | | | |
| --- | --- | --- | --- | --- | --- |
| | | | | | |
| | Get Started | Get Started | Get Started | Get Started | Get Started |
| Best Choice For | Small-ticket, Canada, Mobile, eCommerce  | All businesses, Mobile, Retail | eCommerce, Mobile | Canada, Restaurants | Large-ticket, All-in-one, Recurring billing |
The post The Cheapest Credit Card Processing Companies appeared first on Merchant Maverick.
""
X
Todays Most Sophisticated eCommerce Solution
CLICK HERE TO GO TO WEBSITE